Have you got a school fair coming up?
Participate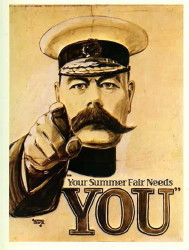 Is your school having a fair or fete?
Contact editor@ealingtoday.co.uk with all the details and let everyone know about it.

Sign up for our free newsletter
Comment on this story on the
It's June and the sun is shining. School is nearly done but before that it's time for the annual summer fair.
Grange PTA Summer Fete
Grange Primary School, Ealing,W5
12 June 2010 from 1-4 p.m.
Please join us for a fun filled day for the whole family-bouncy castle, large inflatable slide, steel drum band, tombola, face painting, BBQ, bar and lots of new and exciting stalls! Admission is free for children and £1 for adults. All welcome. The money that we raise will go towards improving facilities for Grange children. For more information, please visit our website www.grangepta.com

Fielding Summer Fair
Wyndham Road
London W13 9TE 12 June 1-4pm
The summer fete at Drayton Green Primary School (Drayton Grove W13) will take place at 3.30 on Friday 2 July.
We're fundraising to improve the playground and to create a parents' meeting room in school so please support us. A warm and friendly welcome will greet you!

Mount Carmel Summer Fair Little Ealing Lane, Ealing, W5 4EA Sunday 4th July 2010 12 noon – 6pm
June 6th 2010