Youth Orchestra concert Saturday 24th April
Related Links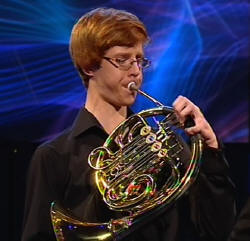 Finlay Bain plays with EYO AT St Barnabas Church, Pitshanger Lane, Ealing, W5 1QX

Participate
Sign up for our free newsletter
Comment on this story on the

Finlay Bain, principal horn of the Ealing Youth Orchestra and Brass finalist of BBC Young Musician of the Year 2010, will play in a concert performance of Schumann's Konzertstück for 4 horns and orchestra with the Ealing Youth Orchestra (EYO) on Saturday 24 April 2010. The concert will take place in St Barnabas Church, Pitshanger Lane, Ealing, W5 1QX at 7.30 pm. The full concert programme is:
• Bach (arr. Stokowski): Toccata and Fugue in D Minor
• Schumann: Konzertstück for 4 horns and orchestra
• Mussorgsky (orch. Ravel): Pictures at an Exhibition
Tickets for the concert are available on the door and via the EYO website, priced at £10 for adults and £6 for concessions. Those aged 11 and under are free.
The Ealing Youth Orchestra, founded in 1959, celebrated 50 years of music-making in 2009. The orchestra is made up of 84 players aged 13-19 from 31 schools in and around west London. It gives regular concerts in the Ealing, Chiswick and Barnes area. In addition to the London concerts, the highlight of the year is the annual summer tour, which allows the EYO to demonstrate its ability to new audiences and gives the orchestra a chance to work on selected pieces performed during the year in more detail than is possible during weekly rehearsals. Last year, EYO visited Normandy, France and gave concerts in churches in Rouen, Le Neubourg and Lisieux and a final outdoor concert in Honfleur. This summer the orchestra is going on tour to Cracow, Poland.
Ealing Youth Orchestra welcomes new players each autumn. This year there will be vacancies for all instruments especially oboe, French horn, lower brass and double bass. For further information contact Ian Brown, auditions@eyo.org.uk, or come to an Open Rehearsal on Friday 2 July 2010, 6.30 - 8.30pm, at St Martin's Church, Hale Gardens, Acton W3 9SQ. Auditions will take place at Twyford C of E High School on Saturday 11 September 2010. Bursaries are available in case of financial need for fees and tour costs.
For further information about Ealing Youth Orchestra's activities, go to www.eyo.org.uk or contact Shona Scott: shonascott1@btinternet.com 07732 555745 or Trevor Watson: chair@eyo.org.uk 07958 235166.
April 21st, 2010