A varied array of events taking place locally in February
The Ealing Music & Film Festival returns in 2016 with a programme of events which will show off local talented artists and those from further afield.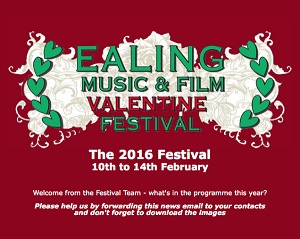 The festival will take place from 10 – 14 February 2016 in and around central Ealing.
There will be orchestral concerts, commencing with the world's most recorded chamber orchestra, the Ealing based English Chamber Orchestra, who perform with renowned pianist Emilie Capulet in a stylish rendition of Schubert's Trout Quintet in the very beautiful St Mary's Church on 10 February.
The English Chamber Orchestra can be heard performing a full programme the following evening, which includes Barber's intense Adagio (used in the film Gallipoli) and features Egypt's foremost classical artist, pianist Ramzi Yassa.

The Ealing Youth Orchestra will play Sibelius' ever-popular overture Finlandia and Mussorgsky's Pictures at An Exhibition in its 1922 orchestration by Maurice Ravel, with a rare performance of William Walton's grand oratorio Belshazzar's Feast, joined by a hundred singers from the London Oriana Choir and the London College of Music Chorus. EYO players have been coached by top professionals from the English Chamber Orchestra, who will also perform at the concert.
The film programme offers a range of screenings with links to the area and includes short films by young directors and feature film 'Desire' by Acton-based director Gareth Jones. There will be a double-bill screening of classic Ealing Studios films and a film by internationally acclaimed local director Gurinder Chadha presented in partnership with the Ealing Classic Cinema Club.
The festival features a vast range of music including boogie pianist Ben Walters and blues guitarist Ramon Goose performing at renowned Ealing venue The Red Room, where so many international artists – including the Rolling Stones – started their careers.
All this and much more can be enjoyed at The Ealing Music & Film Festival.

Julian Gallant, the Artistic Director of the Festival said: "As we enter our fourth year we realise once again just how much talent there is in Ealing. Our Festival reflects this, and our aim is to develop that talent in younger generations of musicians and filmmakers."

As before, the Festival has been organised by an independent Charitable Trust of the same name, specially set up by a group of local residents and patron Angie Bray, and it is being supported by more than 20 local organisations and businesses including Ealing Council and the University of West London.

Patrick Chapman, Chairman of the Trust, said: "This is our fourth festival and we are focusing on Ealing's traditional film and music strengths. A great programme which we trust will appeal to everyone – we certainly look for their support so that we can continue in turn to support young performers in Ealing through our charitable bursaries."
Find out more : The Ealing Music & Film Festival.
January 27th 2016