Man taken to hospital after undergoing medical problems
A man was taken to hospital after collapsing close to the finish line at yesterday's Ealing Half Marathon.
Ambulance crews were called to Lammas Park - about one mile from the end - at 11am and gave emergency treatment on site before taking the runner as a priority to Hammersmith Hospital.
The temperature was warmer than expected and a number of other participants needed medical attention.
Race Director Kelvin Walker said: '' It was an unseasonably hot day but the treatment handed out by the medical team onsite was first class.''
Around four and a half thousand runners took part in this year's race - many raising money for a variety of charities.
Ealing was a sea of yellow as many donned ribbons - the symbol in the #FindAlice appeal.
The 13.1 mile route was also covered - members of the community have been working tirelessly to keep the missing school girl at the forefront of everyone's attention.
Police - who also wore the ribbons- handed out posters about the 14-year-old who has been missing from home for over a month now.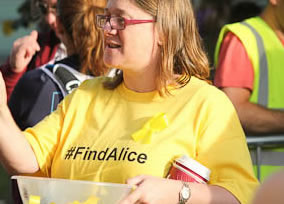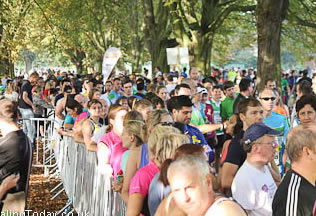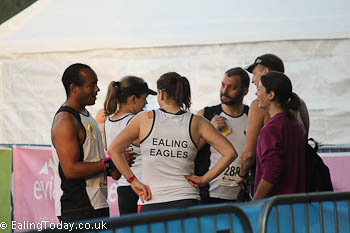 The winner - Ben Siwa - completed the 13.1 miles in 1.07.
More photos of Ealing Half Marathon here (courtesy Peter Gould)
29th September 2014