Ealing Civic Society annual lecture recognises late President
All are welcome to attend Ealing Civic Society's John Delafons annual lecture on Tuesday 2 June 2015 at 7.30 PM in the Queen's Hall, Ealing Town Hall, Uxbridge Rd, W5 2BY.
The speaker will be Michael Hebbert, Professor of Town Planning at UCL, who will be giving a talk about the Society's late President entitled Professor Sir Peter Hall: Role Model.
Sir Peter was one of most eminent town planners of our generation and we were very fortunate that he lived in Ealing. Professor Hebbert will talk about a man who modeled many roles and touched many lives: easy to love, hard to emulate, impossible to forget.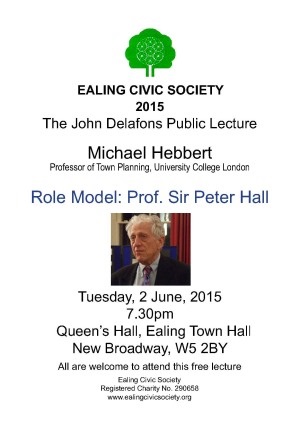 19th May 2015