Raise £8,000 for Ealing Churches Winter Night Shelter
Ealing Choral Society's carol concert has raised thousands to help the homeless.
The choir, conducted by Jonathan Williams, at St Barnanabas Church, performed a variety of festive pieces, and the whole audience joined in with well loved carols.
Journalist and Broadcaster John Sergeant, Christopher Wickenden of Haven Funeral Services (sponsor of the concert programme), Stephen Pound MP and Shane Beadle, Ealing Choral Society Chairman were among those giving seasonal readings.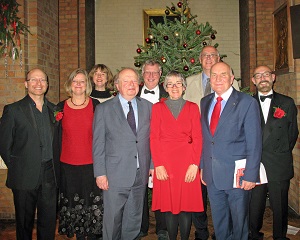 The event highlighted the generosity of Ealing's community, many of whom donated online even though they couldn't be present on the night. Crispins Wine bar, Co-operative Food, Morrisons M, Sainsbury's, Tesco, Waitrose and M&S all gave goods or donations towards refreshments, whilst many traders in Pitshanger Lane (definitely the best High Street in London!) and the wider Ealing area also supported the event.
Liz Moody, Chair of Trustees of ECWNS, said "I would like to express my sincere thanks to Ealing Choral Society for a wonderful evening of festive music and cheer, and for choosing ECWNS as their charity this year. This money will enable us to continue our work in the winter ahead."
Money raised from this concert will go towards providing emergency dormitory style accommodation during the winter months for people who are sleeping on the streets, those who are at immediate risk of rough sleeping locally and the 'hidden homeless'.
Shane Beadle, Chairman of Ealing Choral Society, said " It was a wonderful evening and our thanks go to the many people who supported us. The choir is delighted to raise such a good sum for ECWNS and to support the important work done by them."
For more information on the charity's work and volunteering opportunities visit www.ecwns.org.uk
December 15th 2015