Putting a whole new spin on 'You're Fired'
Related Links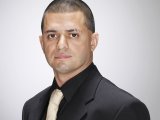 Eclipse
Eclipse Tiles,
129 Little Ealing Lane,
London,
W5 4EJ
Participate
Have a view on issues raised in this story? Go to Ealing Today's forum
The only things that have been fired at former Apprentice contestant Ifti Chaudhri 's new shop on Little Ealing Lane are the tiles.
The candidate most will remember for being the only person to leave the reality TV show without having Sir Alan Sugar's finger pointed at them, is much too nice to do much firing.
Not that he's a push over. Ifti told EalingToday he's a fighter and is not afraid to publicise his strengths. "I still say I'm the best salesperson who was ever born," said Ifti, when asked why he applied for the reality show.
Ifti left the fierce competition on Week 2, but not at the say so of Sir Alan. He admits that he subconsciously did a bad job during the week's task, hoping his poor performance would warrant the sack. But when even that didn't secure him the boot, he asked to leave.
So what happened? Nerves? Fear of failure? Not so says Ifti. In fact he went to bed after the first task believing he had what it took to make it to the final. What it came down to in the end was a subject much debated in today's workplace - worklife balance. Ifti missed his family.
"Without going into detail I had a dream that my family weren't too well. When I had left my son to go into the show he had bad food poisoning. The dream made me lose all confidence in what I was doing. Had I been allowed a couple of hours with my family I may well have stayed, but without any contact I had to throw in the towel.
Does he regret the early departure? Of course he does! "I regretted heavily the way I had to leave. I didn't show how I am - nobody had the chance to see my skills and I didn't get to have a boardroom showdown with Tre."
The self made tile businessman, former police officer (with the 'highest arrest record of any trainee in Woking'), black belt martial arts and double bronze medallist at the Tae Kwon Do World Championships in Athens 1993, is more than a just a mouthful to describe, he is now, thanks to the nation's most successful reality TV show, a celebrity. And it is this aspect of his success story that Ifti finds hardest to believe.
"I will never see myself as a celebrity," he said. "I will never get used to people asking, 'How does it feel to be famous?'."
But he doesn't mind if you want to pop into his shop and ask him yourself! "I'm quite honoured when people come up to me and I'm more than happy to spend time talking to people who are interested about the show."
Ifti hopes to open many more tile shops in the coming years, but for now he's concentrating on Ealing and at least for the first couple of months he believes it's important to be the first person customers see.
He believes he's the cheapest, best quality tile shop in the area. And in true Apprentice style there are no price tags on his products. "We should have a sign up saying 'you're only allowed in if you negotiate'!"
His ethos is a refreshing one. He wants to make customers happy with his price, quality and service and go out and tell their friends about. If they can't afford the tile, he drops the price. If he hasn't got what they want in stock, he sends them down to his local competitor. "They were surprised, but already they've started sending business back my way too."
So who says you have to be a back-stabbing shark to get on in business? Watch this shop space Sir Alan Sugar.

Charlie Canniff

October 6, 2010