Flower festival to launch Ealing in Bloom
As the Queen of the Suburbs bursts into Spring a flower festival called Dig Deep will be hosted at Ealing Broadway Shopping Centre this Saturday (22nd March)
EBSC is supporting Marie Curie Cancer Care throughout the month of March during their Great Daffodil Appeal. The Centre is also excited to be sponsoring Ealing in Bloom.
The event will begin at 11am with representatives from the Ealing branch of Marie Curie Cancer Care, Ealing in Bloom, Cultivate, Capel Manor College and Walpole friends showcasing the importance of horticulture in the area.
From 12pm onwards there will be a program of floral activities from the Ealing Flower Club and Oaktree Flower Club such as Ready Steady Flowers; a Gardener's Q&A session and performances from Singology and other local choirs. The event will lead up to and culminate with the official launch of Ealing in Bloom by the Mayor of Ealing at 3pm.
Ealing Broadway Shopping Centre's Stuart Hill says 'bringing together groups from across the community is fantastic way to support the Great Daffodil Appeal as well as celebrating the arrival of spring. We are really proud to have sponsored Ealing in Bloom for so long and it's fantastic that we can combine such great causes to provide an enjoyable experience for our shoppers'
The Ealing Branch of Marie Curie Cancer Care Chairman says 'Many thanks again to the Ealing Broadway Shopping Centre for supporting Marie Curie Cancer Care. Not only have they given us an opportunity to raise money for our very worthwhile cause but they have also provided the local shoppers with entertainment from local groups and advice opportunities. It will be a fun day for all.'
Nigel Sumner, Ealing in Bloom's Committee Chairman says 'We are delighted to launch the 26th year of Ealing In Bloom at the Ealing Broadway Shopping Centre. Gardening is enjoyed and by people throughout the borough. Not only is it good for your health but the results of the hard work and ingenuity undertaken by the community can result in a visually breath taking area enjoyed by residents and visitors alike.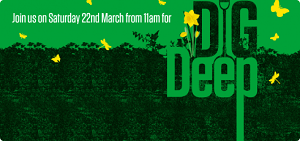 18th March 2014