Say Goodbye to Tom a stalwart of the local gatherings
Related Links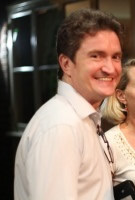 Come and say farewell to Tom Tucker - Landlord of The Rose and Crown who is off to pastures new.
Participate
Sign up for our free newsletter
Comment on this story on the
The Ealing tweetup (#ealingtu) has been going from strength to strength since its very first (small) gathering way back in 2009.
One of the originators, and major supporters of this informal, friendly meet-up of social media users in Ealing has been the Rose and Crown pub (@RoseandCrownW5) most notably Tom Tucker, the very affable Landlord.
Now, sadly, we hear he's heading off to pastures new and it's time to bid him adieu.
Of course you can always do that via twitter @Cabaretjunkie but sometimes it's much nicer to say goodbye in person.
As the current present tweetup organiser Michael Greer (@Mgreer_PR) says:
''It is fair to say that the Ealing Tweetup owes most of its success to the support provided by Tom and his wonderful team. It is therefore with sadness that I announce Tom will be leaving the Rose & Crown at the end of this February to move to Brighton. On behalf of all Ealing tweeters, I would like to thank Tom for his invaluable support and wish him good luck with the new challenges waiting for him in Brighton. I do hope that you can join us at the next Ealing Tweetup to thank Tom personally and wish him farewell.''
About the Ealing Tweetup. The Ealing Tweetup is an informal social media networking event in West London that brings together a diverse range of (mainly) local business people, politicians, bloggers, journos, digital industry types and other interesting folk from many walks of life. With free pizzas and drinks courtesy of our host, Tom at the Rose & Crown - and sometimes live music - the events are proving a great success, with anything from thirty to over 200 attendees, joining to meet fellow Twitter users and expand their networks! We don't mind if you are a Twitter beginner or a media expert. Everyone is welcome! '
When? Wednesday, 26 February 2014 from 19:00 to 23:30
Where?: Rose and Crown Pub
Who?: Everyone's invited!
20th February 2014