Competition for performers of all ages and levels
Related Links
Winners from 2009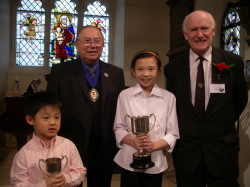 Calvin Leung - prizewinner - Piano Section
Katie Kwong - violinist - prizewinner - Instrumental Section
with the Deputy Mayor of Ealing, Councillor John Ross, and Ealing Festival Chairman Prof. Alan Gillett OBE at the Festival Celebration Concert held on June 7th 2009 at St Mary's, Perivale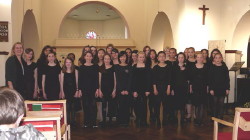 St Paul's Girls' School Junior madrigal group winners of the Choir Class – age 18 and Under – Vocal Section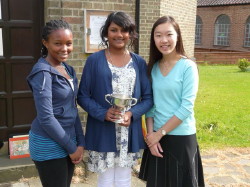 3 more prizewinners from the Vocal Section - Elise Palmer, Simone Pillai and Davina Chao
Participate
Sign up for our free newsletter
Comment on this story on the
Ealing Festival has just published its Syllabus for the 2010 Festival, to be held in April and May at venues throughout Ealing.
Ealing Festival offers a wealth of competitive and non-competitive opportunities for performers of all ages and levels. We have classes for stringed instruments, woodwind, brass, recorder, harp, guitar, piano, song, speech/drama and dance. Many classes are suitable for beginners and for very young performers. Others are for older students and adults. We have opportunities for soloists and for groups.
There are cash and trophy prizes, and everyone receives a verbal and written assessment and certificate from one of our professional, trained adjudicators.
The winner of our Concerto class also has the chance to play a complete concerto with the Ealing Symphony Orchestra.
For Syllabus, Entry Forms and Closing Dates visit our website:
Ealing Festival is affiliated to the British and International Federation of Festivals.
January 27th 2010