Coming up March 29th
Participate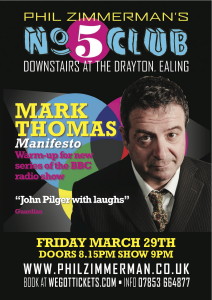 No 5 Club, Friday March 29: MARK THOMAS, MANIFESTO.
Downstairs at The Drayton Court, 2
The Avenue, Ealing W13 8PH. Doors 8.15pm/show 9pm. (No support, Mark Thomas on stage, 9pm)
Info : 07853 664 877.
www.philzimmerman.co.uk
Sign up for our free newsletter
Comment on this story on the
Mark Thomas brings his BBC radio 4 show Manifesto to the No5 Club at the Drayton Court on March 29, when the people of Ealing will get a chance to take part in a warm-up for the new series.
Tickets are selling fast and can be purchased from http://www.wegottickets.com/No5Club.
Manifesto is a comic and satirical political manifesto, made up of policies suggested and voted for by members of the public.
The idea transferred to radio and then a book of the best policies was published in 2010 after which Thomas announced a contest to find someone to stand in the 2010 General Election based on ideas from the show.
Prior to The Mark Thomas Comedy Product, Thomas was a frequent guest on the BBC Radio 1 show The Mary Whitehouse Experience. He then became the resident comic on Saturday Zoo, a Channel 4 comedy series and appeared on Have I got new for you.
The Mark Thomas Comedy Product earned him criticism from politicians but was seen by critics as a crucial investigative tool.
The Parliamentary committee which oversees weapons exports commended him for his undercover work, which led to official warning letters being issued to a number of companies.
In 2006, he was added to the Guinness Book of Records for the most demonstrations held on one day: 20 individual protests in 20 different locations.
No 5 Club, Friday March 29: MARK THOMAS, MANIFESTO. Tickets £12 from http://www.wegottickets.com/No5Club. Downstairs at The Drayton Court, 2
The Avenue, Ealing W13 8PH. Doors 8.15pm/show 9pm. (No support, Mark Thomas on stage, 9pm) Info : 07853 664 877.
www.philzimmerman.co.uk

4th March 2013