Previewing his Edinburgh show 'Hitler Moustache'
Related Links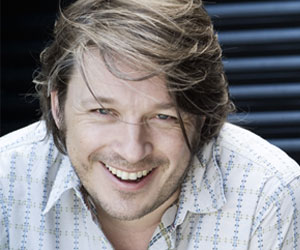 Richard Herring previews his new Edinburgh show 'Hitler Moustache'. Plus Brett Goldstein and Liam Speirs with Phil Zimmerman as MC. Doors 8.15pm/show 9pm.
Tickets: £9.00 (Concessions £6.00) from www.wegottickets.com

Comedy and Curry Nights at the Watermans
Participate
The Drayton Court, 2 The Avenue, Ealing W13 8PH.
For more information call 07853 664 877 or buy tickets at www.wegottickets.com
Tickets are selling fast for the Edinburgh preview of Richard Herring's new show, 'Hitler Moustache', Downtairs at the Drayton in Ealing on Friday June 12.

Herring has been described by the British Theatre Guide, as "one of the leading hidden masters of modern British comedy" and GQ said of him, "In years to come, Herring will be remembered as the best comic of his generation, mastering every comedic art form".

Herring's comedy has included stand-up, comedy plays, radio comedy and several TV shows and he has worked with a number of other comedians, including Stewart Lee as part of Lee and Herring.
Other notable works include the radio series, That Was Then, This is Now and various live shows including the acclaimed Talking Cock and the resulting book of the same name.

His 2008 stand up set 'The Headmaster's Son' earned critical respect with four 5 star reviews.

TELEVISION AD RADIO CREDITS
• On the Hour (1991)
• Lionel Nimrod's inexplicable world (1992)
• Fist of fun (1993)
• Fit of Fun (1994)
• That Was Then This Is Now (2004-8)
• Banter (2005 - present)
• Collings and Herring (2008 - present)

Future Events



Friday June 19
ROBIN INCE, Otiz Canelloni, special guests with Phil Zimmerman as MC. Doors 8.15pm/show 9pm.
£12.00 (Concessions £9.00)

Friday June 26
CHRIS ADDISON plus support with Phil Zimmerman as MC. Doors 8.15pm/show 9pm.
Tickets: £12.00 (Concessions £9.00)
June 11, 2009