Annual Shri Kanagathurkkai Amman Temple (SKAT) festival
Thousands are expected to congregate in West Ealing this weekend for the annual Shri Kanagathurkkai Amman (Hindu) Temple festival.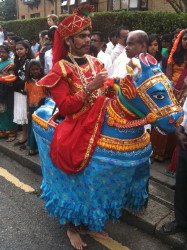 Devotees come from all over the world and West Ealing is transformed with music,food and costume.
The festival culminates on Sunday 11th August with the Chariot procession leaving the Temple around 9am, and then returning at about 12pm via Mattock Lane, Culmington Road, and the Uxbridge Road.
Expect delays and road closures.
Read more about previous festivals here

August 8th 2013