Lights, Camera, Action - films for September
Related Links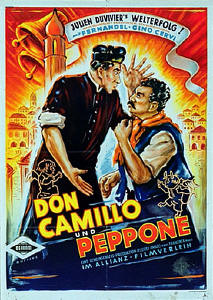 email
2011 Classic Cinema Club of Ealing Phone 0208 810 1826

Classic Cinema Club of Ealing all films begin at 7:30pm at Ealing Town Hall
Admission is £6 and £5 concessions. Non-members pay a £1 temporary membership at the door. Membership is £10 year. No need to pre-book, pay at the door.
Participate
Sign up for our free newsletter
Comment on this story on the
7 September
The Little World of Don Camillo
(Italy, 1952)
Directed by Julien Duvivier

A small rural village in Emilia-Romagna is the battleground where the Catholic priest and Communist mayor exchange insults, punches and gunfire in a series of amusing attempts to wrest influence over the locals.
In spite of its protagonists' rivalry, the German Film Awards named it as an Outstanding Feature Film Promoting Democratic Values.
14 September
Big Deal on Madonna Street
(France 1958)
Director: Mario Monicelli
Starring Marcelle Mastroianni,
Renato Salvatori, Claudia Cardinale
A gang of petty criminals dare to plan a heist – but their toughest obstacle is their own insurmountable ineptitude, and they shine in this character-driven film where familiar faces of Italian cinema act against the slums of Rome and a jazz score. The plot parodies straight crime films like 'Rififi' and 'The Asphalt Jungle'. The director was a beacon who brought 'la commedia italiana' to the big screen and insisted on mining desperation, tragedy and misery to find hope through laughter.
21 September
The Fireman's Ball
(Czechoslovakia1967) Director : Milos Forman
An event held to honour a retiring fireman descends into utter chaos in this Czech New Wave masterwork, filmed in a Communist Palace of Culture in a mountain village, with an amateur cast populated entirely by the real inhabitants and volunteer firefighters. The authorities suspected it was straying too far into satire, and its national release was delayed until the Prague Spring, and afterwards was "banned forever" while the director faced criminal charges. He moved to the USA where he would make 'One Flew Over the Cuckoo's Nest' and 'Amadeus'
3rd July 2012