Conflict, struggles and friction
Related Links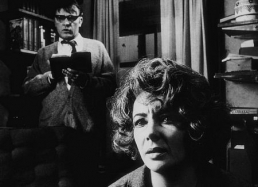 Classic Cinema Club of EalingEaling Town HallNew Broadway, Ealing, London, W5 2BYLondon, England W5 2BY United Kingdom
Participate
Sign up for our free Ealing newsletter
Comment on this story on the
Our films for October are based around the theme Conflict. The films choices are a mixture of audience suggestions and Simon's (our film programmer) choices. The films range from A Man Escaped, a intense drama about imprisonment, thoughts of escape and the toll it takes, to Fear and Desire, Stanley Kubrick's first feature film. It's a study into the thoughts and feelings of men in combat behind enemy lines. In between we have the very classic Who's Afraid of Virginia Woolf? (enough said!) and the award winning The Battle of Algiers, telling the story of the French trying to maintain control of the colony as aggression escalates on both sides.
October 4th
A Man Escaped (1956)
Directed by Robert Bresson

A political prisoner meticulously and methodically prepares to break out from a Nazi jail. Recreated from memoirs written by French Resistance activist André Devigny, the production strives for realism with non-professional actors, filming at the actual fort, and stretches suspense simply from the situation and a sharp sound design. Bresson's usual meditations on humanity and faith combine with contemplation on how the fight for freedom and survival strengthens during oppression. Best Director at the Cannes Film Festival.

October 11th The Battle of Algiers (1966)
Directed by Gillo Pontecorvo

Based on real accounts of the Algerian War, showing the indigenous insurgents demanding independence through guerrilla tactics, while the French Army struggles to keep control of the colony, and both sides intensify their aggression. Aiming at neutrality and authenticity, it was shot in the Casbah with a local cast, in a documentary style that emulates newsreels but bristles with a thrilling energy and charged cinematography. Winner of the Critics' Prize and the Golden Lion at the Venice Film Festival.
October 18th
Who's Afraid of Virginia Woolf? (1966)
Directed by Mike Nichols
Starring Elizabeth Taylor & Richard Burton

Mike Nichols's debut film is an almost unabridged transition of Edward Albee's play, retaining the then-expletive language that broke ground in what became permissible to portray and say on screen. George and Martha invite a younger couple over for drinks, and as the alcohol flows and the speech slurs, their mutually abusive and destructive marriage is laid bare in "one of the most scathingly honest American films ever made". Winner of 5 Academy Awards and many others for its lead actors' searing performances.
October 25th
Fear and Desire (1953)
Directed by Stanley Kubrick

A plane is shot down, leaving four soldiers stranded in a forest behind enemy lines during an unnamed war. Kubrick was director, producer, photographer and editor for this, his first feature film, an atmospheric stare into the thoughts and actions of men in combat. Some prescient critics at the time saw promise and praised the talent and effort behind the ideas, but the director himself was embarrassed by his novice attempt and tried to discourage viewings of it, though the military remained a motif for him.
3rd October 2013