Coming soon - a classic Ealing Comedy
Related Links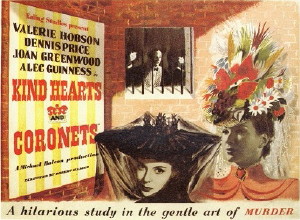 Kind Hearts and Coronets 29th June
Films begin at 7.30pm at Ealing Town Hall.

CCCE is a membership film club. Admission is £6 and £5 concessions. Non-members pay a £1 temporary membership at the door.
Membership is £10 year. No need to pre-book, pay at the door.
Concessions are for over 60, persons with disabilities or active students.
Participate
Sign up for our free newsletter
Comment on this story on the
15 June The Misfits (1961)
Starring Gable, Monroe, and Montgomery Clift
Written by Arthur Miller for Monroe, his wife at the time, and filmed in Nevada, this is an elegy for the death of the Old West, made notorious due to the problems which dogged the production, and the fates of its actors soon after its release, it remains haunted by the best performances of their careers.
Starring Clark Gable and Marilyn Monroe in their final roles, along with Montgomery Clift, Thelma Ritter, Eli Wallach.

22 June The Night of the Iguana (1964)
Starring Richard Burton, Ava Gardner & Deborah Kerr
A defrocked priest finds himself the centre of attention of several women in an atmosphere of sexual temptation and frustration set and filmed in sweltering Mexico.
"Huston and company put together a picture that excites the senses, persuades the mind, and even occasionally speaks to the spirit—one of the best movies ever made from a Tennessee Williams play." Time
Starring Richard Burton, Ava Gardner, Deborah Kerr, Sue Lyon
A Classic Ealing Comedy!

Classic Cinema Club Ealing is pleased to learn of the presentation to Ealing Studios for being the longest running studios. We are an avid fan of Ealing Studios and will be screening "Kind Hearts & Coronets" on 29th June. We have continuously supported films made at the Studios and others made by contemporary Ealing directors.
We are a major supporter of Ealing film-makers and have regularly featured "made in Ealing" films in our programmes, including student graduation films from the Met Film School.
29 June Kind Hearts and Coronets (1949)
Starring Alec Guiness
One of the superlative Ealing Comedies, this is a tale about a man who plots to kill every relative that stands between him and the family inheritance. At once a witty black comedy of manners, a grotesque serial-killer caper and an acerbic satire on the class system, with its delicate balancing act between bad taste and bad manners, the Ealing genre reached utter perfection.
Starring Dennis Price, Alec Guinness – as eight characters! – Valerie Hobson, Joan Greenwood, Hugh Griffith.
14th June 2012