This month 'Voyages' at Ealing Town Hall
Related Links
Friday evenings 7:30pm
EALING TOWN HALL
Uxbridge Road W5
Discussions/ Debates follow the projections
www.classiccinemaclub.co.uk

July Theme:
Voyages

Tickets £6 (concs/ students £5)
CCCE is a members club.

Membership costs £10 for 12 months
or £1 per evening
For membership details email:
classiccinemaclub@hotmail.co.uk
Or ring our membership Secretary
on 020 8810 1826

Free parking behind Perceval House after 5pm
and wheelchair access inside the Town Hall.
CCCE is an affiliate of the
British Federation of Film Societies and
a member of Ealing Arts + Leasure
www.classiccinemaclub.co.uk
Up On The Roof
Participate
Sign up for our free newsletter
Comment on this story on the
5th JULY
Sweet Smell of Success (1957)
Directed by Alexander Mackendrick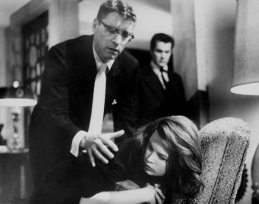 Burt Lancaster and Tony Curtis unnerved their fans with their nasty turns as a gossip columnist and press agent who play dirty in their professional and personal lives, spitting out stylised dialogue written by Clifford Odets and Ernest Lehman. With moody shots of night-time New York and a jazz score, the first American film from the Ealing Studios director of 'The Ladykillers' relocates his cynicism across the Atlantic for a sharp satire of the media and ambition.
12th July
Never on Sunday (1960)
Directed by Jules Dassin

The director himself plays Homer Thrace, a classical scholar and amateur philosopher from the USA who finally visits his beloved Greece to unearth why the ancient civilisation fell so low. He meets Ilya, a free-spirited prostitute in the port of Piraeus, and decides she is emblematic of this cultural degradation and that he must save her. But she has much to teach him – and the audience – about modern Greek dance, music and life. This huge hit made a star of Melina Mercouri, named Best Actress at Cannes for her engrossing and enormous comedy performance.
19th July
The River (1951)
Directed by Jean Renoir

The French director's first colour film – in Technicolor – was shot by the Ganges in West Bengal, India. Three teenage girls from colonial families become infatuated with an American soldier, and learn painful lessons in life and love. Graceful, poetic and humanistic, Renoir's vision of the characters and their surroundings is filtered through an observational style. Martin Scorsese raves that it is "one of the two most beautiful colour films ever made."
26th July
Summertime (1955)
Directed by David Lean

Katharine Hepburn plays a middle-aged singleton fulfilling her dream of visiting Venice, but finds being in the world's most romantic place can make one feel lonely – then an unexpected encounter with Rossano Brazzi turns into a bittersweet romance. The city viewed through a Technicolor lens looks sumptuous and Hepburn's performance is lauded for its sensitive balance of vulnerability and vibrancy. This was a turning point in Lean's career and his personal favourite of his own works.
2nd July 2013