Films for June and July
Related Links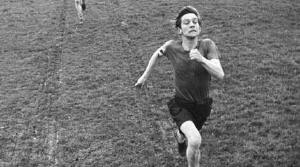 July 27 : The Loneliness of the Long Distance Runner
Films begin at 7.30pm at Ealing Town Hall.

CCCE is a membership film club. Admission is £6 and £5 concessions. Non-members pay a £1 temporary membership at the door.
Membership is £10 year. No need to pre-book, pay at the door.
Concessions are for over 60, persons with disabilities or active students.
Participate
Sign up for our free newsletter
Comment on this story on the
A Classic Ealing Comedy!

Classic Cinema Club Ealing is pleased to learn of the presentation to Ealing Studios for being the longest running studios. We are an avid fan of Ealing Studios and will be screening "Kind Hearts & Coronets" on 29th June. We have continuously supported films made at the Studios and others made by contemporary Ealing directors.
We are a major supporter of Ealing film-makers and have regularly featured "made in Ealing" films in our programmes, including student graduation films from the Met Film School.
29 June Kind Hearts and Coronets (1949)
Starring Alec Guiness
One of the superlative Ealing Comedies, this is a tale about a man who plots to kill every relative that stands between him and the family inheritance. At once a witty black comedy of manners, a grotesque serial-killer caper and an acerbic satire on the class system, with its delicate balancing act between bad taste and bad manners, the Ealing genre reached utter perfection.
Starring Dennis Price, Alec Guinness – as eight characters! – Valerie Hobson, Joan Greenwood, Hugh Griffith.
July 6 Billy Elliot (2000)
Directed by Stephen Daldry
Starring Jamie Bell Julie Walters
An 11 year old boy grapples with a burgeoning love of ballet against a backdrop of machismo and aggression in County Durham during the 1984 Miners' Strike. Jamie Bell and Julie Walters dance to music by T-Rex, The Clash, The Jam and Tchaikovsky. A box office smash hit in Britain and internationally, and also a big winner at awards ceremonies and film festivals worldwide.
July 13 Pina (2011)
Directed by Wim Wenders
Wim Wenders, director of 'Wings of Desire', 'Paris, Texas' and 'Buena Vista Social Club', had planned a collaboration with choreographer Pina Bausch, and following her death was persuaded by her dancers to continue with the project as a tribute to her. He takes the audience on a sensual, visually stunning journey of discovery into a new dimension: straight onto the stage with the legendary Tanztheater Wuppertal ensemble, he follows the dancers out of the theatre into Wuppertal.
July 20 The Tales of Hoffmann (1951)
Directed by Michael Powell and Emeric Pressburger
"For the first time in my life I was treated to Grand Opera where the beauty, power and scope of the music was equally matched by the visual presentation." — Cecil B. DeMille
"The cinema creates here a new artistic monster: the best legs adorned by the best voice. Not only is opera liberated from its material constraints but also from its human limitations. Lastly, dance itself is renewed by the photography and the editing, which allows a kind of choreography of the second degree where the rhythm of the dance is served by that of the cinema." — André Bazin
July 27 The Loneliness of the Long Distance Runner (1962)
Directed by Tony Richardson
Starring Tom Courtenay &
Michael Redgrave
Written by Alan Sillitoe, based on his own short story, Tom Courtenay makes his debut as a rebellious youth in a borstal where Michael Redgrave plays the Governor who pushes him into sport. During his solitary runs, we see reveries of his life and times before his incarceration. Class-conscious and reflecting the rage and apathy of the angry young men of the time, this was one of the landmarks of the British New Wave, where filmmakers with documentary backgrounds insisted on independent 'Free Cinema' and 'Kitchen Sink' realism.
25 June 2012