Four Fridays of melodrama, comedy, strife and bliss.
You are cordially invited to watch these movies that celebrate matrimony, portraying it as a union of love, a ritual and ceremony, and even a formal transaction. There are characters in wedded bliss and marital strife, and plotlines that follow them through good times and bad, as they behave for better or for worse. The films mine romance and relationships for both melodrama and comedy, and make for an engaging and entertaining series of cinema.

Friday 5th
The Man in Grey
1943
112 minutes
Directed by Leslie Arliss
Starring Margaret Lockwood, James Mason, Phyllis Calvert, Stewart Granger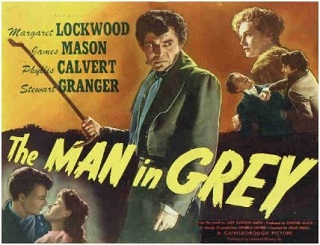 Two school-friends find their lives twisted together through marriages of convenience and scandalous affairs, afflicted by ambition, treachery and resentment amongst the aristocracy of the Regency era, based on the bestselling novel by Eleanor Smith. The first of several period dramas that become big box office hits for the Gainsborough studios, it also propelled its cast to stardom. r
Friday 12th
Bride and Prejudice
2004
111 minutes
Directed by Gurinder Chadha
Starring Aishwarya Rai, Martin Henderson, Naveen Andrews

Shown as part of the Ealing Music and Film Festival
In this fresh take on the familiar story, single men are in want of a wife, parents seek to arrange marriages for their daughters to suitable suitors, and the women themselves wish to assert their independence and value. Courtships are complicated by first impressions, misunderstandings and clashes of egos. Marrying the romantic comedy of Jane Austen's novel with Bollywood-style musical numbers, the film crosses cultures and continents, shot on locations in India, USA and England.
From the director of 'Bhaji on the Beach', 'What's Cooking?', 'Bend It Like Beckham', 'Angus, Thongs and Perfect Snogging' and 'It's A Wonderful Afterlife'
Friday 19th
It Happened One Night
1934
105 minutes
Directed by Frank Capra
Starring Clark Gable, Claudette Colbert
An heiress, spoiled rotten by her wealthy father, rebels against his wishes and control by eloping with a playboy, and goes on the run. A newspaper reporter sees her as an exclusive story, and together they travel across the country. During their road trip through the rural America of the common man, their initial disdain and bickering softens into a growing fondness. This quintessential screwball comedy remains one of the most beloved and popular Hollywood classics.
Winner of the Academy Awards for Best Picture, Best Actor, Best Actress, Best Director, Best Writing
Friday 26th
La Cage aux Folles
1978
93 minutes
Directed by Édouard Molinaro
Starring Michel Serrault, Ugo Tognazzi r
A gay couple resides in Saint-Tropez, one the manager and the other the star performer of a nightclub that features flamboyant drag queen acts. When their son announces his engagement and an impending visit with his fiancée and her strait-laced traditional parents, they realise they'll need to tone down their home décor, personal decorum, and high camp to camouflage their lifestyle. This outrageous, good-natured farce became a sensational success in Europe and the USA.
Nominated for the Academy Awards for Best Director, Best Writing, Best Costume Design
Winner of prizes for Best Foreign Film and Best Actor
BECOME A MEMBER of Classic Cinema Club
Receive a discount when attending screenings and also know you are helping to support an all volunteer film society in your local community.
Also members get a discount of 20% at Kerbisher and Malt here in Ealing. Right across from the Ealing Town Hall. K&M will make a fine stop before the show!

Please ask if you have any questions about the benefits of membership.
You can now purchase memberships online on our website.
Please support Pitshanger Pictures, your neighbourhood cinema in Pitshanger. They always have an amazing schedule of films and events and even food! And more importantly they help keep the film and cinematic spirit alive in our great community.

***Suggestions- Let us know what you think and what you would like to see. Email us, ring us, or write in the suggestion book available at the screenings.

***Want our poster or schedule? Let us know and we'll email it to you.

***All films are shown at Ealing Town Hall on Fridays at 7:30pm followed by a discussion about the film.
1st February 2016