Directors who influence films so much that they rank as their author
Auteurs

To test the auteur theory, we show more films from directors who have proved popular with our audiences in the past, and admire how they left their personal mark on these works and their careers overall.

Friday 8 January
Ninotchka
1939
110 minutes
Directed by Ernst Lubitsch
Starring Greta Garbo, Melvyn Douglas, Bela Lugosi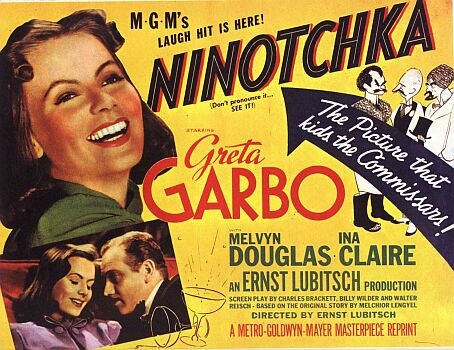 A no-nonsense envoy from the Soviet Union arrives in France to retrieve a trio of comrades who have been corrupted by the indulgences of capitalism, but will she also be seduced by the charms of Paris and a suave suitor? Garbo is a deadpan delight in her first comic vehicle, enhanced by counting Billy Wilder among its screenwriters, and the Lubitsch Touch that brought sophisticated wit to Hollywood comedies.
Nominated for the Academy Awards for Best Picture, Best Actress, Best Writing
From the director of Trouble in Paradise and The Shop Around the Corner
Friday 15 January
Rashômon
1950
88 minutes
Directed by Akira Kurosawa
Starring Toshirô Mifune, Takashi Shimura
In the woodlands of medieval Japan, four people give their differing accounts of a crime, as witness, victim and instigator. This exciting exploration of the truth, complicated by unreliable narrators, perspective and perception, makes use of natural settings and thrilling images. As an early international success, it left Western audiences eager to see more from the director and other Japanese cinema.
Winner of the Golden Lion at the Venice Film Festival and an Honorary Academy Award
From the director of Ran, Ikiru, Throne of Blood, and Stray Dog
Friday 23 January
Bodas de Sangre (Blood Wedding)
1981
72 minutes
Directed by Carlos Saura
A dance company puts on a flamenco interpretation of Federico García Lorca's play about ill-fated lovers and tragic jealousy. The director captures the sense of the backstage preparations that precede the passionate performances, and the camerawork and choreography come together in a dazzling union. The filmmaker's work in documentary and fiction features rich allegories and celebrations of Spanish culture.
From the director of Cría Cuervos
Friday 30 January
La Règle du Jeu (The Rules of the Game)
1939
110 minutes
Directed by Jean Renoir
During a hunting party hosted at a château in the country, the various entangled love affairs between aristocrats and servants become more twisted over the weekend. Beneath the surface cordiality and propriety, the plot uncovers the sordid secrets and moral decay of its characters. In this comedy of manners and satire of social class, the director inspired flowing photography and an intricate mise-en-scène.
Voted number 4 in the Sight and Sound 2012 poll of the Greatest Films of All Time
From the director of La Grande Illusion, The River, and French Cancan.
BECOME A MEMBER of Classic Cinema Club
Receive a discount when attending screenings and also know you are helping to support an all volunteer film society in your local community.
Also members get a discount of 20% at Kerbisher and Malt here in Ealing. Right across from the Ealing Town Hall. K&M will make a fine stop before the show!

Please ask if you have any questions about the benefits of membership.
You can now purchase memberships online on our website.
Please support Pitshanger Pictures, your neighbourhood cinema in Pitshanger. They always have an amazing schedule of films and events and even food! And more importantly they help keep the film and cinematic spirit alive in our great community.

***Suggestions- Let us know what you think and what you would like to see. Email us, ring us, or write in the suggestion book available at the screenings.

***Want our poster or schedule? Let us know and we'll email it to you.

***All films are shown at Ealing Town Hall on Fridays at 7:30pm followed by a discussion about the film.
5th January 2015