Movies plus a Christmas get together planned
6th DECEMBER Tokyo Story 1953
directed by Yasujirô Ozu
An elderly couple travel to visit their children in the city, only to be treated like a burden and shrugged off from each offspring to the next. The Japanese master and his regular cast achieved a victory of subtlety and simplicity, won by their trademark method of quiet observation and contemplation. It's "one of cinema's most profound and moving studies of married love, ageing and the relations between parents and children" and consistently ranked high among the best films ever made.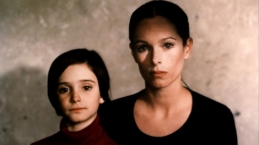 13th DECEMBER Cría Cuervos (Raise Ravens) 1976
directed by Carlos Saura

Starring Ana Torrent, Geraldine Chaplin A crumbling household is seen through the eyes of a melancholic eight-year-old coping with loss, grief, guilt and uncertainty while trying to demystify the deaths of her parents and the wider adult world around her. Reality and fantasy merge together hypnotically, as do her memories, imagination, and ghostly visitations. Filmed as Generalísimo Franco lay on his deathbed, this allegory of the nation under his rule is a "political and psychological masterpiece and a classic of Spanish cinema" and was awarded the Special Grand Prize of the Jury at Cannes.
20th DECEMBER The Holly and the Ivy 1952
directed by George More O'Ferrall
Starring Ralph Richardson, Celia Johnson, Margaret Leighton, Denholm Elliott, John Gregson This lesser-seen seasonal film is a touching and sentimental comedy-drama, with an all-star British cast. A parson who devotes himself to his parishioners must focus on his grown-up children's needs and grievances when their relatives gather at his home for Christmas.
A FESTIVE FRIDAY
Friday December 20th
7pm for an evening of fun, friends and film as we host the Classic Cinema Club Christmas Party. We'll have mince pies, some festive warming food, Christmas music and of course the film, The Holly and The Ivy which will start at 7;30. Come early, stay late. Talk, hang out, bring anything you want. We'll be here early and stay until 10pm or so. We'll also have another surprise or two that we can't quite talk about yet. You might have to come to the shindig to find out :)
28th November 2013