Eight picked based on popular opinion and critical consensus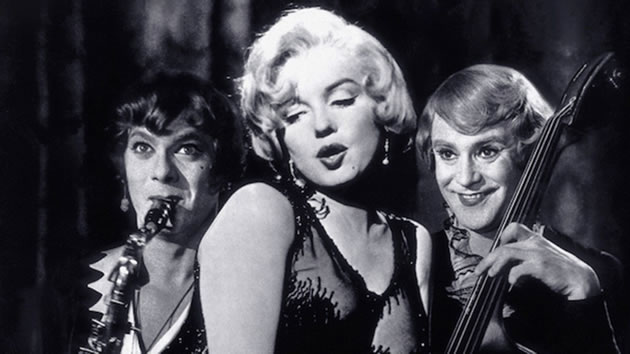 Ealing Classic Cinema's autumn season is a collection of what are generally regarded as the greatest films of all time. They've been hailed as ground-breaking and influential, for technical innovations and reforming narrative, and as pinnacles of art and entertainment. Let's see how we judge and appreciate them now.
The season begins with the all-time favourite of many people, 'Some Like It Hot', and continues with the film that regularly tops polls for best film, Citizen Kane.
The films are to be shown at Ealing Town Hall on Fridays at 7.30pm followed by a discussion about the film and tickets cost £7 or £6 for concessions. Tickets are cheaper if you become a member.
Ealing Classic Cinema is always looking for support and has roles that it would like volunteers to come forward for. If you are interested in helping out email them at classiccinemaclub@outlook.com.
Friday 8th September - Some Like It Hot 1959
121 minutes PG in English
Directed by Billy Wilder
Starring Marilyn Monroe, Tony Curtis, Jack Lemmon
On the run from the mob, two male musicians disguise themselves and lay low in an all-female brass band, featuring sultry singer Sugar Kane. Their hidden identities complicate matters further when romance and attractions arise. This outrageous comedy was voted the Number 1 funniest American movie of all time.Winner of the Academy Award for best costume design; Golden Globes for best comedy, actor and actress; and best comedy by the Writers Guild of America.
Friday 15th September Citizen Kane 1941
119 minutes U in English
Directed by Orson Welles
Starring Orson Welles, Joseph Cotton, Agnes Moorehead
A reporter investigates the mysterious meaning of the last word spoken by a media tycoon, after a life spent amassing fortunes and exploiting people in pursuit of power. This American allegory has long been deemed the best film ever made: "A film that broke all the rules and invented some new ones. A stunning film in every way." Winner of the Academy Award for best original screenplay; best film and best acting from the National Board of Review USA; named best film by several critics' polls and publications, and later best film of the century.

Friday 22nd September Late Spring (Banshun) 1949
108 minutes U in Japanese with English subtitles
Directed by Yasujirô Ozu
Starring Chishû Ryû, Setsuko Hara
A middle-aged man and his adult daughter fend off interfering relatives and meddlesome friends intent on finding them a marriage match, in this bittersweet story from the master of family dramas. "One of Ozu's personal favourites, this serene, acutely observed examination of filial relationships and middle-class life is a transcendent and profoundly moving work rivalling 'Tokyo Story' as the director's masterpiece." Winner of Japanese film magazine and newspaper awards for best film, director, screenplay and actress.

Friday 29th September Breathless (À Bout de Souffle) 1960
90 minutes PG in French with English subtitles
Directed by Jean-Luc Godard
Starring Jean-Paul Belmondo, Jean Seberg
A petty thief fancies himself a cool criminal like those in the movies he idolises, and as the police track him down, he plans to flee Paris with his American girlfriend. With creative energy, a low budget and love of the B-movie genre, "Breathless helped launch the French New Wave and ensured that cinema would never be the same." It made a huge splash at the time and was exciting, daring, different and new – how does it look today? Winner of best director at the Berlin festival; the Prix Jean Vigo; named best film by French cinema critics.

Friday 6th October Singin' in the Rain 1952
103 minutes U in English
Directed by Stanley Donen and Gene Kelly
Starring Gene Kelly, Donald O'Connor, Debbie Reynolds
There's panic and upheaval in Hollywood as sound films become the talk of the town, and between technical difficulties, maintaining a glamorous façade, and squeaky voices, not everyone eases into the transition. This joyous comedy is abound with industry in-jokes about showbiz behind the scenes, and the dazzling dance routines are set to a songbook including 'Make 'em Laugh', 'Good Morning' and the title number. Advertised at the time as "MGM's Technicolor musical treasure!" it is now called the best movie musical.
Nominated for two Academy Awards for acting and music; winner of the Golden Globe for best actor; best musical from the Writers Guild of America; counted among the Top Ten Films by the National Board of Review USA.
Friday 13th October Mirror (Zerkalo) 1975
107 minutes U in Russian with English subtitles
Directed by Andrei Tarkovsky
Starring Margarita Terekhova, Ignat Daniltsev, Oleg Yankovsky
A narrator reminisces on his childhood in the countryside, his relationships with family over generations, and moments of everyday life, along with reflections on Soviet history and the Russian people. Weaving together the past and present, personal and universal, and real footage with visually stunning dream imagery, this art film makes transcendent use of the medium – "Cinema rarely gets this close to poetry in motion."

Friday 20th October Kes 1969
111 minutes PG in English
Directed by Ken Loach
Starring David Bradley, Colin Welland, Freddie Fletcher, Lynne Perrie
In South Yorkshire, dragged down by school struggles and a difficult home life, a boy finds a young kestrel – and a purpose – as he nurses and trains it to soar the sky. As ever with the director's brand of realism, it was shot on location in South Yorkshire with a mostly non-professional cast, resulting in "one of the most powerful coming-of-age stories ever told, containing passages of great beauty." The film and its spirit have endured, and it was voted number 7 in the BFI Top 100 British Films.
Winner of BAFTA awards for its actors; best screenplay from the Writers' Guild of Great Britain; counted in the Top Ten Films by the National Board of Review USA; it got top prizes and high praise at several film festivals.

Special screening event
Top horror film from our own EALING STUDIOS
and it's... Halloween!
Friday 27th October Dead of Night 1945
104 minutes PG in English
Directed by Alberto Cavalcanti, Charles Crichton, Basil Dearden, Robert Hamer
Starring Mervyn Johns, Googie Withers, Sally Ann Howes, Michael Redgrave, Garry Marsh
Attending a gathering at a country house, one visitor recognises the other guests – from his recurring nightmares. They have all had spectral encounters and experiences, including a deadly premonition, a haunted mirror, and a ventriloquist's dummy with a mind of its own. As each tells their tale of the supernatural, his dreams become indistinguishable from reality. Producer Michael Balcon assembled the best directors, writers and crew at Ealing Studios for this anthology of ghost stories, including adaptations of works by E. F. Benson and H. G. Wells. Included in lists of the top horror films by critics' polls and Martin Scorsese, "this chilling quintet deserves to be considered among the studio's finest achievements."
Winner of Most Interesting Screenplay at the Locarno festival.

classiccinemaclub.co.uk

August 30, 2017