A series of dramatic reconstructions of history and biopics
September's programme for Ealing's Classic Cinema Club is entitled Reel Lives with very different films based on actual events being shown.
Sept 4 - The Grapes Of Wrath
Sept 11 - Buena Vista Social Club
Sept 18 - Amy (the new Amy Winehouse documentary)
Sept 25 - A Not So Silent Silent Film Event! The Passion of Joan of Arc - a silent feature from 1928 with live music from jazz musician Joseph Marshall.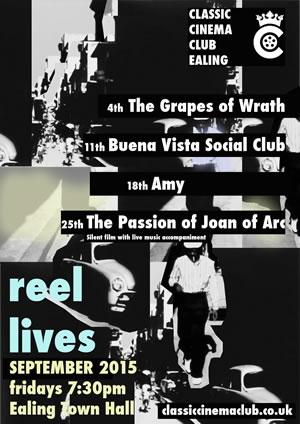 The group's newsletter states, "Real lives and actual events have always been shown in cinemas, from the ordinary everyday habits captured with the earliest movie cameras, to dramatic reconstructions of history and biopics portraying people's experiences.
"We screen both documentaries and narrative films that realise their tellings with personal accounts, factual records, existing footage and studio productions, and each form proves a powerful, direct depiction of human stories."
If you become a member of the Classic Cinema Club you receive a discount when attending screenings and also know you are helping to support an all volunteer film society in your local community. You can join the Classic Cinema Club on their web site.
All films are shown at Ealing Town Hall on Fridays at 7:30pm followed by a discussion about the film. Tickets are £7 / £6 concessions and available at the door and online.
August 24, 2015