Espionage is July's theme for the Classic Cinema Club
Ealing Events
Participate
Ealing Town Hall, New Broadway, Ealing, W5 2BY
Tickets £7/£6 Concessions
TICKETS AVAILABLE ONLINE
Memberships available £10
Sign up for our free weekly newsletter

Comment on this story on the
Classic Cinema Club Ealing (CCCE) is showing a series of spy films during the month of July.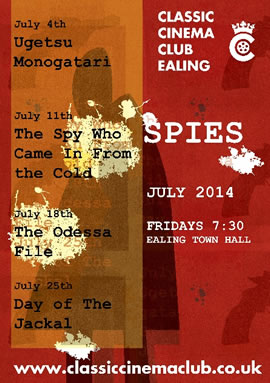 June 27th
Taxi Driver
(Last in the Broken Minds series for June)
July 6th
Ugetsu Monogatari

(This film is not part of the Spies season but has been rescheduled from May)
July 11th
The Spy Who Came In From the Cold
July 18th
The Odessa File
July 25th
Day of The Jackal
All films 7:30pm Ealing Town Hall.
CCCE is a member of The British Federation of Film Societies.
Please note the films can contain scenes of violence, sexual content and swearing. They are recommended for adult audiences but younger viewers may be accompanied by an adult.
The club will be closed for the month of August


June 24, 2014