October - 'City Life'
Related Links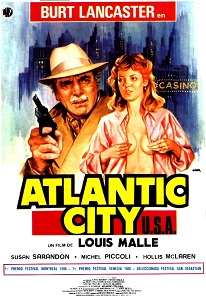 All films are shown at Ealing Town Hall on Fridays at 7:30pm and followed by a discussion about the film.
Tickets are £7 / £6 concessions and available at the door and online.
CLASSIC CINEMA CLUB - EALING classiccinemaclub@hotmail.co.uk 0208 991 1163
Participate
Sign up for our free newsletter
Comment on this story on the
Friday October 10th

One, Two, Three (1961)
directed by Billy Wilder
starring James Cagney, Horst Buchholz, Pamela Tiffin

Berlin, Germany
An executive for Coca-Cola in West Berlin is burdened with the extra responsibility of chaperoning his boss's daughter during her visit – a job complicated further when she marries an East German Communist. This Cold War comedy riffs on both sides; a farce full of breathless dialogue, a rapid succession of set pieces, and a non-stop energy from a game James Cagney. As Billy Wilder explained, "The general idea was, let's make the fastest picture in the world."
Friday October 17th

I am Cuba (Soy Cuba) (1964)
directed by Mikhail Kalatozov
Havana, Cuba
This collaboration between Soviet Union filmmakers, a poet and a mostly non-professional local cast and crew is a masterpiece of agitprop, detailing the social inequality and rebellious fervour leading up to the Cuban Revolution. Featuring some of the most jaw-dropping technical camerawork ever achieved, taking us over the coastline and countryside of Cuba, through the streets and factories of Havana, and into the parties and swimming pools of the city.
From the director of 'The Cranes are Flying'
Friday October 24th

Atlantic City (1980)
directed by Louis Malle
starring Burt Lancaster, Susan Sarandon, Kate Reid, Michel Piccoli

New Jersey, USA
"Where dreamers can be winners." Giving magnificent performances, Susan Sarandon plays a casino croupier with aspirations of working in Monte Carlo, while Burt Lancaster recounts his delusions of having been a gangster, though his old age and faded memory match his home's crumbling piers and run-down resorts. Drawing deeply from the mood and atmosphere of its setting, this character study was laden with critics' awards as best picture, and for its performances, writing and direction, including the Golden Lion at the Venice Film Festival.
Academy Award nominations for Best Picture, Best Director, Best Actor, Best Actress, Best Writing
BAFTA Awards for Best Actor, Best Direction
Boston Society of Film Critics Award for Best Actor
Kansas City Film Critics Circle Awards for Best Actor, Best Actress
Los Angeles Film Critics Association Awards for Best Picture, Best Actor, Best Screenplay
National Board of Review USA Award Top Ten Films
National Society of Film Critics Awards USA for Best Film, Best Actor, Best Director, Best Screenplay
New York Film Critics Circle Awards for Best Actor, Best Screenplay
Venice Film Festival Golden Lion
Friday October 31st

The Big City (Mahanagar) (1963)
directed by Satyajit Ray
starring Madhabi Mukherjee, Anil Chatterjee

Calcutta, India
When a woman finds work as a salesperson, the flourishing of her confidence and independence clashes with her family's sense of structure and societal tradition. With scenes set in the houses, offices and streets of Calcutta, Ray and his cinematographer and actors evoke both the domestic sphere and urban spaces of their native town with warmth and witty humour.
8th October 2014