The annual park festival declared another success
London's oldest carnival took place at Elthorne Park on Saturday. Did it rain? Oh yes. At first just half-hearted showers but by 4pm the Heavens opened in earnest. But we're tough in Hanwell …… and waterproof.
The procession to the park from the Community Centre looked amazing. Led by the Oatlands Pipe Band from Weybridge, the parade was a sea of colourful banners and signs illustrating the carnival's 2013 theme, "Back to Nature". There was also – for reasons that were never entirely made clear – a Dalek and some storm troopers from 'Star Wars'.
Ealing Council leader, Ccllr Julian Bell was one of many cyclists on the procession, he told me; "I think it was the best procession for years, I was right behind the storm troopers, who got rousing cheers all the way along".
In the park, the carnival laid on everything the thousands of visitors have come to expect each year; a music stage, Community stage, dog show, fairground and craft tent showcasing lots of local talent.
But there were new things too. A wild animal centre featuring snakes, a crocodile and meercats. You couldn't touch the meercats (which were much tinier than I thought) but after watching them for a while I was struck with an overwhelming desire to buy some insurance and had to leave ……
Another new feature was 'Hanwell's Got Talent" – devised and produced by Westside FM who've been broadcasting from their Hanwell base for 18 months and who are going from strength to strength.
Station manager Sone Palda said "We wanted to be involved in a big way with the carnival, and this seemed to be ideal – a chance for younger people to appear on the stage." The winner 24 year old, Key Lyric, who writes, performs and produces his own stuff - gets a 30 minute showcase on the station and a guaranteed slot at next year's carnival.
The police had a section at the back of the park where they displayed one of their helicopters and two vintage police cars – including a 1968 Morris Minor. If I'm ever on the run I hope I get chased by the Morris not the chopper.
QPR football club also joined in, running football –related activities for children. But, given their controversial and hotly contested plans for a massive £30 million training ground at Warren Farm on the Hanwell/Southall border, that could be interpreted as merely a crafty PR move. Interestingly, there were people collecting money and petition signatures against the development in the crowd – at least the Carnival has something for everyone.
Miguel and Maria Gomez have lived in Hanwell for 7 years but this was their first visit. "We didn't know it was so large with so much to see" said Miguel. "We wanted to see the animals but there was a big queue and then it started to rain, so we took the children to the inflatable rides which were a bit expensive but ok. We will definitely come again"
Council leader Julian Bell needs no convincing of Hanwell's success. "This is a brilliant community event organised by a band of hard working, dedicated volunteers".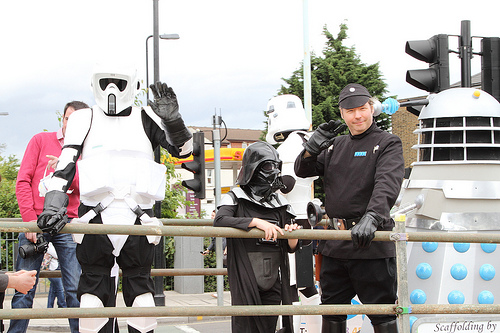 image courtesy Paul James
Viv Ellis
16th June 2013