Hear Catherine O'Driscoll, Canine Health Concern, talk on May 3
Related Links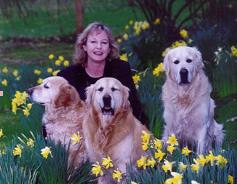 Catherine Driscoll and four-legged friends
Participate
West London Homeopaths are a community group, an association of local homeopaths who offer our services to the Ealing and West London area. They have a website - www.westlondonhomeopaths.com - where visitors may search for a homeopath located near to them or with a profile which suits them.
"We also organise seminars, mainly for homeopaths, but occasionally they are on a topic which would be of general interest and at such a time, they would be open to anyone in the local area.
They're man's best friend so they've got to deserve to be fed well. And one dog lover is convinced healthy feeding could leave owners with a healthier bank balance - a recipe for long-lasting friendship surely!
The association of local practicing homeopaths have invited Canine Health Concern founder, Catherine O'Driscoll, to talk on the subject in the latest of their organised seminars.
The author of three books on the subject, Catherine is travelling down from Scotland to speak on natural healthcare and diet for pets...and their owners!
"Catherine has done extensive and bona fide research on bio-available diets for animals and also on the side effects of pet vaccines," said Helen Kimball-Brooke LCPH MCHE RMANM, Chair of West London Homeopaths. "The results of her research can also be applied to humans so this lecture would be of interest to pet owners, dog walkers, vets, pet shop owners, parents of young children, basically anyone!"
Canine Health Concern was formed in 1994 when Catherine's two Golden Retrievers died. On her website Catherine says that when she looked into the causes of their death, she was sent scientific papers which told her that commercial pet food was nutritionally inadequate, and that many deficiency diseases are the direct result of poor feeding. She says that also learnt that the annual shots we give to our pets each year, in the belief that we are protecting them from disease, are actually the largest cause of ill health in our pets today.
She purports that her diet survey has showed 'an 85 per cent drop in the number of veterinary visits once dogs were changed to real food'. Worth hearing more about?
The talk will take place at Northfields Community Centre on Saturday the 3rd of May from 10am to 5pm.

April 17, 2008