Hurry and try out new seasonal menu
From 19th September to 4th October, some of the UK's finest pubs are calling everyone to gather their troops and join the fight for British food.
As part of British Food Fortnight, The Grange in Ealing will champion the very best of Blighty with a special seasonal menu.
Joining forces with the country's specialist suppliers and artisan producers, The Grange will serve a dedicated
British Food Fortnight menu.
Menu available Mon-Sat from 6.00pm
Starters :Soup of the day: Leek & Maris Piper w sorrel oil (£4.00).. Pan-seared scallops w black pudding, wild mushrooms & Addlestone cider sauce (£7.50) Beetroot & shallot tartlet watercress & grape chutney (£6.50)
Mains Roast pheasant casserole w thyme dumplings (£10.50) Venison, chestnut & fig pie w Savoy cabbage & game chips (£9.75) Smoked haddock, colley & mussel chowder w saffron potatoes ( £11.25)
Desserts Bread & butter pudding w honeycomb ice cream & apple tuile (£5.50) Lemon posset w ginger biscuits (£4.75) Chocolate & almond brownie w vanilla ice cream (£6.00)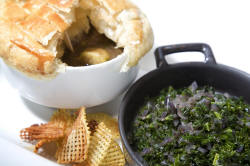 Whether proud patriot, gourmet glutton or staunch supporter of superior tastes and long term sustainability, eat bold, eat beautiful, eat British at The Grange.

The Grange:
Warwick Road, Ealing, London W5 3XH www.thegrangelondon.co.uk T: 020 8567 7617
*Advertisement*
September 23, 2009