A new orchard planted with the help of local residents
Crowds of local residents gathered in Blondin Park Nature Reserve on Sunday 21 November to plant a 100 fruit and nut trees, reflecting this area's history as a famous orchard.
The Friends of Blondin Park bought the trees with a grant from the London Tree and Woodland Grant Scheme and, in partnership with Ealing Transition and the Ealing Park Rangers, organised what turned out to be a highly successful tree-planting day. Thanks are due to all concerned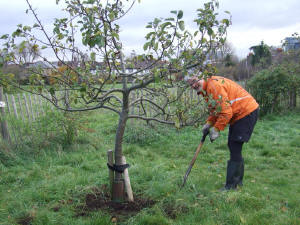 It was a really great community day with all sorts of people involved, ranging from local supporters and families to a community payback team, local councillors, and a big team of Ealing Park Rangers, as well as Friends of Blondin members.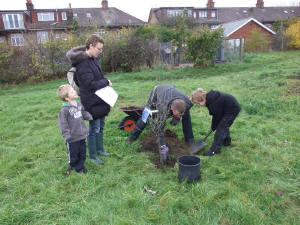 There must have been over a hundred people in all. Even the weather was on our side! We got all 100 trees neatly planted, staked where necessary, and labelled and tied in record time and even did some additional work on some of the more established trees.
Delicious warming soup, hot drinks and cakes were provided courtesy of the Friends of Boston Manor and added to the festive atmosphere.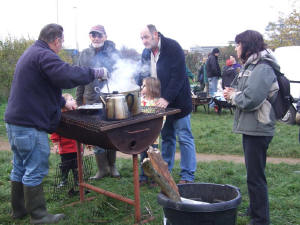 We now have quite a significant collection of fruit and nut trees of various varieties and can do some serious comparing of what thrives and what doesn't in our environment, which could well be of use to others.
We are looking to the future care and maintenance of the trees and are setting up a tree 'adoption' scheme whereby regular users of the area can volunteer to help maintain and keep an eye on a particular tree – contact info@friendsofblondin.org.uk for details.

Helen Johnson
November 29 2010