Saturday 25th September
Participate
The Rose & Crown
Church Place, St Mary's Road
Ealing, W5 4HN
Band on stage at 8.30pm, curfew 11pm, bar closes at midnight.
www.biblecodesundays.co.uk

Sign up for our free newsletter
Comment on this story on the
London Irish super-group Biblecode Sundays are playing Ealing this weekend with a small gig on Saturday night at the Rose & Crown pub. It's an unusual venue for a band that headlined the Shepherd's Bush Empire shindig on St Patrick's Day earlier this year, but one the band is looking forward to – and it's free for punters visiting the pub.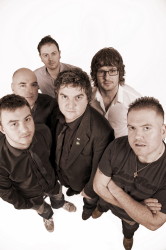 The band is a true mix of the great and good, with music in their blood from birth. Lead singer Ronan MacManus is the son of Ross MacManus, who achieved fame with the Joe Loss orchestra. He is also the brother of Declan, better known as Elvis Costello. Andy Nolan on accordion played with Shane MacGowan and the Popes. Drummer Carlton Hunt is from ska outfit Bad Manners, and bass player, Enda Mulloy, is the son of Tom Mulloy of the legendary Mulloy brothers.
Their best-known song 'Maybe it's because I'm an Irish Londoner' name-checks many of the areas around Ealing and the Uxbridge road, so it's a return to home turf for the west London five-piece. That song soared up the charts back in March as St Patrick's day revellers attempted to purchase enough copies online to get the Biblecodes to number one. They were defeated by Ellie Goulding fans, but still managed to make a dent on the national singles chart with a song about the Irish community in west London.
Mark Hilary
September 20th, 2010