Sherlock Holmes as you've never seen before
Related Links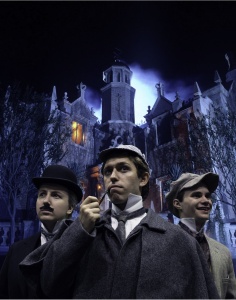 Actors Alex Cummings, Nick Thomas & Lydia King enjoy rehearsals of The Hound of the Baskervilles at The Questors Theatre. ealingtheatre.com
Top photo by Robert Vass, bottom photo Peter Collins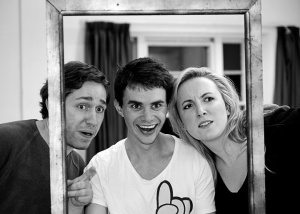 Participate
Sign up for our free Ealing newsletter
Comment on this story on the
With the classic Sherlock Holmes story of The Hound of the Baskervilles at its core, this brilliantly funny adaptation really puts the cast through their paces.
When Sir Charles Baskerville is found dead on his estate, with a look of terror still etched on his face, and the paw prints of a gigantic hound beside his body, the great detective Sherlock Holmes is summoned to investigate an ancient curse.
The original story was adapted for the stage by John Nicholson and Steven Canny for the Peepolykus theatre company, who have their roots in clowning and drew inspiration from memorable physical comedy like Marx Brothers and The Mighty Boosh. 17 characters make an appearance on stage, and with just three actors playing all the roles there's plenty of action -- and an added twist with a female Dr Watson too!
Multiple costumes, special effects and an energetic cast make for a lively evening full of fun. With much racing around the moors and to-ing an fro-ing from Baker Street, this is a gloriously funny adaptation of Sir Arthur Conan Doyle's most celebrated Sherlock Holmes story.
Don't miss this madcap version of a timeless Sherlock Holmes yarn at The Questors from 28 September - 5 October.
Performances are at 7.45pm with an additional matinee performance at 2.30pm on Sunday 29 October.
Tickets are available from The Questors' website: ealingtheatre.com. Or phone the Box Office on 020 8567 5184.
23rd September 2013