Ice hockey player shows skills at Elthorne
Related Links
Children with Chelsea MacKenzie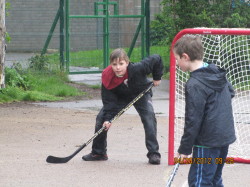 Anthony Savard ready for action with Alister Rae in the foreground
Participate
Sign up for our free newsletter
Comment on this story on the
The goalie for Guildford Lightening women's ice hockey team shared her skills with children at the West London Ball Hockey Club based at Elthorne school.
Chelsea Mackenzie has also played for St Francis Xavier University in Nova Scotia, Canada and in the National Women's Hockey League based in Canada.
The children were excited about spending the day with a real star.
Chelsea told them about her experiences playing both ball hockey and ice hockey.
She coached the goalies from the children's club, instructing them on the butterfly style.
Later on in the game she played for the Eagles - the girls team - in goal.
After the match each child took a penalty shot - but they couldn't get passed Chelsea who saved them all.
Games on Saturday 28 April
Game 1 – Eagles Girls team 4 vs Penguins 1
With Chelsea playing on girls team Jessica Rae opened the scoring for the Eagles and then Charlotte Killick opened up the lead with a further two goals of one which was set up with a good pass from Jessica Rae. Chris Everett then narrowed the lead by scoring for the Penguins on Chelsea. Jessica Rae then closed off the scoring with a goal for the Eagles. Final Score 4-1
Player of the Match: James Killick (Penguins), Jessica Rae (Eagles), Charlotte Killick (Eagles)
Game 2 – Knights 3 vs Senators 1
The knights opened the scoring with an own goal scored on the Senators. The Red Team then tied it up and then took the lead on a pair of goals scored by Bryan Stevenson. With the Knights down 2-1 Jesse Jeer then scored two goals in order to reclaim the lead for the Senators and win the game.
Player of the Match: Jesse Jeer
Goalies: Senators – Daniel McEvoy, Knights – Alistair Muckle
Game 3 – Canucks 1 vs Maple Leafs 1
This game was a strong defensive battle. Luke Jeer opened the scoring for the Maple Leafs. It looked like 1-0 score would hold until William Ashton scored a nice goal in the last few minutes of the game to tie the score
Player of the Match: Alister Rae (Maple Leafs), Luke Nayyer (Canucks)
Goalies: Maple Leafs – Nick Savard, Canucks– Dominic Rae
Additional Information
We will restart after the bank holiday weekend on Saturday 12 Mayat the MUGA court behind Elthorne Sports Centre. Time of play is 9.45 – 11.45. All children 4 to 14 are welcome . For enquiries please email westlondonballhockeyclub@hotmail.co.uk or call 07906-638612.
1st May 2012