Club that started via the Ealing Today forum now has 25 members
The opening night for the new Backgammon in Ealing club was truly memorable.

As pictures speak louder than words, here is the proof!
We played a 'knockout' tourney, 3 point matches with a 5pt final.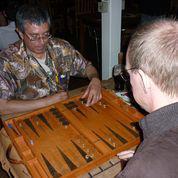 The two finalists Geoff Oliver and Lawrence Powell. Geoff won the tournament. It was a real pleasure to see him in action!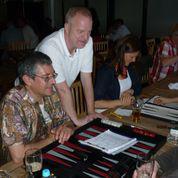 Standing behind Geoff, our chairman Darren Woodcock
One of the reasons of our success is that our committee members are totally dedicated and have complementary talents. Our chairman Darren Woodcock, the top man at Tallyho Events, is an outstanding organizer. Peter Bennet and Geoff Oliver, brilliant backgammon players, manage the tournaments. Mark Tomes, our computer virtuoso, is invaluable in keeping up all members well informed. Ben Owen, a man of multi talents, helps in every way he can. I take care of Facebook.
But, of course, the main reason of our success is the Forum and Ealing Today. Without you, we would not have existed! Now we have over 25 members and we will be playing every Tuesday at 7.30 at the Castlebar.
We are all very grateful to you and thank you wholeheartedly for your ongoing support.
Doria Schmid
Contact details:
facebook.com/groups/backgammon.ealing
2nd July 2012