Year long scheme bringing a host of workshops to the community
Related Links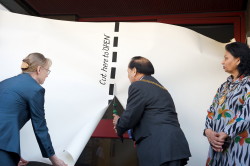 The Mayor of Ealing Councillor Rajinder Mann (centre) officially opens the arts project, with Chair of the West Ealing Arts Project Committee Ann Pavett (left) and the Mayoress of Ealing, Councillor Gurmit Mann. .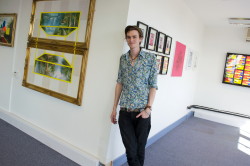 local artist Jack Jones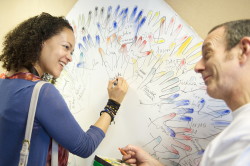 A2Dominion's Charlotte Drew and artist Nick Pearson.
Participate
Sign up for our free newsletter
Comment on this story on the
The Mayor of Ealing, Councillor Rajinder Mann, has officially launched an exciting new arts project in West Ealing, which aims to bring hundreds of local people together to help build a stronger local community.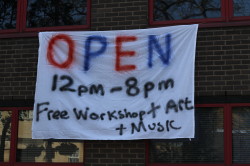 Around 180 residents turned out for the opening event on Saturday (April 9), where there was a range of activities on offer including taster sessions, art exhibitions, live music and a pre-launch of Ealing Film Club. Also attending was local MP Angie Bray.
The year-long initiative, named 'OPEN Ealing', is being run by West Ealing Arts Project from 113 Uxbridge Road in Ealing.
It is part of the £136m regeneration of the Green Man Lane estate in West Ealing, which is being carried out by local housing association A2Dominion and developer Rydon, and designed by Conran & Partners.
Over the next 12 months, local people of all ages and abilities will have the chance to take part in a wide range of arts-related sessions such as painting, crafts, dance, film making, drama, sculpture and photography. There will also be opportunities for residents and artists to display and sell their work.
Simon Hall, A2Dominion's Community Regeneration Director, said: "We were delighted with the turn-out for the launch event, which exceeded our expectations, and we received lots of positive feedback which was fantastic.
"The regeneration of Green Man Lane is not just about providing new homes but about helping to create a stronger sense of community and a more vibrant local area. Art is a great medium for breaking down barriers such as age, ability and languages and for reaching out to people and encouraging them to come together for something fun and rewarding. The local area is very diverse and I'm sure we'll end up with a very eclectic body of artwork."
Local resident Anne Fabing, who is Chair of the Green Man Lane Tenants and Residents Association, attended the launch. She said: "The project is a great opportunity for people in West Ealing. It will bring people together in a way that's never been done before. People may find hidden talent and I'm sure many budding artists will appear. I can't wait to be part of it. It's a great way to start the summer."
Mayor of Ealing, Councillor Rajinder Mann, said: "The launch of the project proves that the idea to help regenerate the area is not just about houses but also about art. Culture and activity are well known methods of building communities and Ealing Council values the work being done in the community."
Artist and local resident Jack Jones, said: "OPEN started simply as an idea to put artworks in empty shop windows with David Highton from West Ealing Neighbours. We showed our proposal to A2Dominion and from there it began to snowball. The project idea is very flexible and open to any creative input no matter how subtle or ambitious."
It is hoped the project will help provide a long-lasting and sustainable arts legacy for the area.
The West Ealing Arts Project Committee includes Chair Ann Pavett from Ealing Arts + Leisure, artists Jack Jones and Nick Pearson, David Highton from West Ealing Neighbours and representatives from A2Dominion and Ealing Community and Voluntary Service.
At the launch event was hand-made jewellery by an arts collective set up by the charity Mind, a window art installation created by pupils from nearby school St John's in West Ealing, and a pottery display and workshop by local artist Viv Phelan. The Classic Cinema Club-Ealing gave a trailer show in preparation for the film club's launch on 6 May.
The project's classes and workshops will run Mondays to Fridays during the Easter holidays and will include weekends thereafter. There will be a small fee to take part, subsidised for low-income families, to help cover the cost of running the activities. About 250 qualified artists, all specialists in their own fields, will be brought on board to run the arts sessions over the course of the project.
Southside Decorators has provided funding and staff time towards the project. Ealing Council's Elthorne and Walpole Ward Forums have also provided funding for the project, along with A2Dominion's Community Involvement Team and Ealing and Brentford Consolidated Charity (EBCC).
Maria Gledhill, Chief Executive of EBCC, said: "We are delighted to be able to support The Green Man Lane arts project." Waitrose provided refreshments for the launch.
About 20 volunteers have signed up to date to help run the project. Anyone who would like to get involved can contact Ealing Community and Voluntary Service on 020 8579 6273 for more information.
All workshop and project details can be found on the website www.openealing.com.
For more information about the Green Man Lane regeneration visit www.greenmanlane.co.uk
12th April 2011