Liquid Geometry at the PM Gallery
Related Links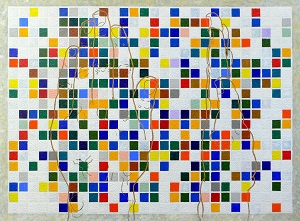 Liquid Geometry in The Studio at PM Gallery & House
VISITOR INFORMATION
Liquid Geometry in The Studio at PM Gallery & House
Dates: 12 October – 2 November 2013. Admission: Free to all visitors.
PM Gallery & House, Walpole Park, Mattock Lane, Ealing, London W5 5EQ
Opening Times: Tues-Fri 1-5pm; Sat 11am-5pm; Closed Sundays and Mondays
www.ealing.gov.uk/pmgalleryandhouse 020 8567 1227 @soanesvilla
Participate
Sign up for our free Ealing newsletter
Comment on this story on the
The work of a long-standing Ealing resident who died in August is on show at the PM Gallery.
Liquid Geometry is the first exhibition in over twenty years devoted to the work of the Australian-born painter, Peter Heath (1928-2013).

Living in Ealing since 1966, Peter Heath exhibited internationally throughout his career, showing as far afield as Dusseldorf and Sydney.
After graduating from the Slade School of Art in London, a lifelong studio practice led to such works as Liquid Geometry, Now or No and Another Way to Make a Star, where encaustic (or hot wax) painting is combined with paper collage and drawing.
His dynamic linear and geometric rhythms are interwoven with a visual poetry of time, season, identity and migration.

Liquid Geometry covers his whole career, featuring pieces on which the artist was working at the time of his recent death.

16th October 2013