Why don't you? After all it's FREE!
Related Links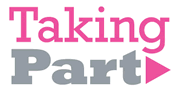 Participate

Walpole Park, Mattock Lane, Ealing, W5 5EQ
Admission is free to all visitors
Opening Times: Tuesday-Friday 1-5pm; Saturday 11am-5pm

Sign up for our free newsletter

Comment on this story on the Ealing forum
If you've ever wished you could come up with something half as good as what you've seen in the PM Gallery, now's the time to see if you actually might have it in you.
PM Gallery & House have launched "Taking Part" a new creative arts programme for adults and young people aged 16 and above.
Funded by Arts Council England, this short-term pilot aims to increase the number of adults, from all sectors of the community, who enjoy arts activities at PM. Please contact Lee McCulley on 020 8825 9808 to take part.
"Taking Part" will consist of a variety of exciting FREE workshops, covering all artforms, which will mainly take place at PM, from May - July 2008. The workshop options are shown on the menu below and times and dates can be organised to suit your group where possible.
Workshops are being offered to educational, community, voluntary or social groups. If you would like to book a workshop for your group, or request further information, contact Jan Johnson on 020 8567 1227 or takingpart@googlemail.com All activities will be run at no cost to the participants.
Drawing, Painting & Collage with Sharon Phelps
Artist Sharon Phelps creates calm, contemplative artworks inspired by reflected light on landscapes and water. During this workshop, Sharon will guide participants of all abilities through different techniques using drawing, painting and collage. This relaxing workshop will draw inspiration from the historical Pitzhanger Manor-House and the surrounding Walpole Park.
Storytelling at the Manor
No experience is necessary for this workshop, as storyteller Akuba will guide you through well-known stories and folklore using drama, African artefacts and improvised song. Akuba has led previous workshops at the British Museum and was awarded "Aspiring Black Storyteller" in 2006 and 2007 at the Festival of Black Female Voices.
Wordplay Creative writing with Tonya Blowers
This inspiring and fun workshop is led by writing tutor, Tonya Blowers. The interiors of Pitzhanger Manor-House will be used for developing setting, character and story. Tonya's experience and enthusiasm makes it easy for writers at all levels to explore ideas and share a love of language.
Plaster Pictures
Led by artist Anna Boland, this workshop seeks inspiration from the historic Pitzhanger Manor-House and picturesque Walpole Park. Anna will guide the group around the house and park before leading a hands-on workshop which uses clay and plaster to create personal and unique artworks. No experience necessary.
Islamic Calligraphy
This hands-on workshop will introduce the practical aspects and creation of Islamic calligraphy and geometry. Led by Islamic artist and calligrapher, Samir Malik, participants will complete the workshop being able to use classical tools and techniques with confidence.
Creative Printing
London based artist, Clare Burnett will introduce the creative use of simple printing techniques for effective results. Inspired by design motifs in Pitzhanger Manor-House and the natural forms found in Walpole Park, this workshop will use low-tech materials and equipment, allowing you to complete a finished piece and continue experimenting at home!
Sculpture Workshops with Carl Gabriel
Full time carnival artist, Carl Gabriel has created large sculptural pieces for Diwali and St Patrick's Day in West London and for the Mayor's Thames Festival. He has also worked extensively in UK museums and art schools. This workshop will introduce you to carnival arts and no experience is necessary. While building the structures, participants will use basic geometry, and consider shape, balance and the properties of different materials.
Wire Sculpture Workshop with Carl Gabriel
Carnival artist, Carl Gabriel will lead this workshop and no experience is necessary. Participants will use basic geometry, considering shape, balance and control of wire by bending and forming.
Stained Glass Design
Acton based artist Zoe Angle will encourage participants to look at architecture and Pitzhanger Manor-House and buildings in general, for inspiration. Using drawing, painting and collage, the group will then work in collaboration to create a large scale stained glass design.
Working with Willow
Led by artist Anna Boland, this hands-on workshop introduces willow sculpture techniques for all abilities. This workshop takes place in the recently restored Pitzhanger Lodge.
Mosaics
Led by Gina Martin, this hands-on creative workshop introduces mosaic techniques for all abilities. This workshop takes place in the recently restored Pitzhanger Lodge.
June 5, 2008