From 29th May - 1st June at Questors
Related Links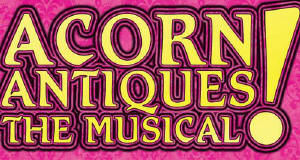 Performances 8:00pm Wednesday - Saturday
Tickets - £16
Concessions - £14 available on Wednesday and Thursday
Concessions are available to children 16 years and under, full-time students and over 60s.
Box office: 020 8572 0475 Email: boxoffice@glocmt.org.uk
24-hour secure on-line booking: www.glocmt.ticketsource.co.uk (booking fee applies)
Participate
Sign up for our free newsletter
Comment on this story on the

Written by Victoria Wood and based on the soap opera parody sketches that appeared in the Victoria Wood As Seen On TV shows, the Oliver Award-winning musical follows Miss Babs' struggle to keep her antiques business open, as shop after shop in the High Street is forced out by faceless chains…

Can she afford to turn down the offer from The Guilty Bean (the world's second biggest chain of coffee shops – "We're second so we grind harder") and if they do update the shop, can they still afford to employ Mrs Overall?

And will Mr Clifford ever get his memory back, and remember who he's engaged to?
And most worryingly, will Mrs Overall be able to tap dance while holding the tray?


26th May 2013