Saturday May 14th at Walpole Park
Ealing 135 is a lifeline for many families with youngsters in the borough.
It's run entirely by volunteers and known for raising money for local charities. This year's featured charity is Home-start Ealing. Home-start Ealing is a registered charity, supporting families with young children who live in the within the borough. All the families Home-start work with are experiencing some type of stress or difficulty which could include isolation, poverty, mental health issues, bereavement and disability.
For more information go to www.homestartealing.org. Home-start Ealing will be there on the day promoting their cause, recruiting volunteers and asking for donations.
Coming up in May is the Ealing 135 Spring Fair, it takes place on May 14th at The Rickyard in Walpole Park. The theme is seaside.. so get your youngsters swimming cozzies ready!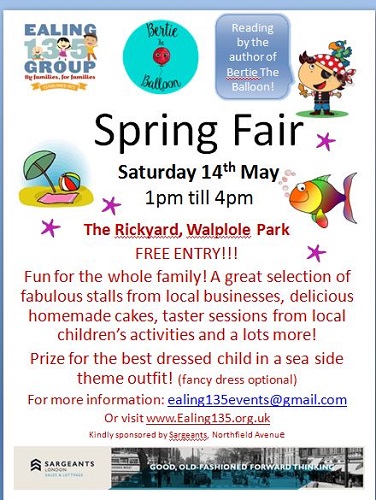 23rd March 2016