Labour man holds his seat in otherwise miserable night for party
As widely expected Labour's veteran and popular MP, Steve Pound, has held the Ealing North seat once again.
Mr Pound has been the sitting member for 18 years having first been elected in 1997.
Making the most of what looks to be a very disappointing overall outcome for his party, in his acceptance speech he hailed 'a Tory free Ealing.' His colleague Dr Rupa Huq had managed to narrowly win the Ealing Central and Acton seat giving Labour a clean sweep with Virendra Sharma also holding on in Ealing Southall.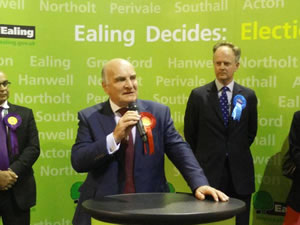 A vocal parliamentarian, Mr Pound has gained respect from all political representatives with his lively and witty debating style. A former boxer in the navy Private Eye once dubbed him ''"Ealing North's tattooed bruiser".
Ealing North Constituency - 2015 Result

Candidate

Party

2010 Votes

2015
Votes
%
+/-

Stephen Pound

Labour

26,745

55.1

+4.7

Thomas O'Malley

Conservative

14,419

29.7

-1.2

Meena Hans
Green Party

705

1,635

3.4

+2.3

Afzal Akram
UKIP

685

3,922

8.1

+6.6

Kevin McNamara

Liberal Democrat

6,383

1,575

3.2

-9.9

David Hofman
Trade Unionist and Socialist Coalition

-

214

0.4

+0.4

Majority

12,326

25.4

+5.9

Turnout

-

65.7

-4.5
Ealing North Constituency - 2010 Result
Candidate
Party

2005 Result

2010 Result

%
+/-

Stephen Pound

Labour

20,956

24,023

50.4

+3.5

Ian Gibb

Conservative

13,897

14,722

30.9

+2.6

Chris Lucas

Liberal Democrat

9,148

6,283

13.2

-6.0

David Furness
British National Party

-

1,045

2.2

+2.2

Ian Du Wulverton
UKIP

-

685

1.4

-0.1

Christopher Warleigh-Lack
Green Party

1,319

505

1.1

-1.8

Peter Ljubisic
The Christian Party

-

415

0.9

+0.9

Majority

9,301

19.5

Turnout

47,678

70.2

+10.1
8 May 2015