After nationals claim it barred obese patients from its first floor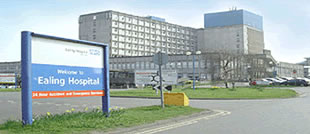 Participate
Staff at Ealing hospital have reportedly been warned not to send obese patients to a first floor waiting room fearing that the building will not take their weight.
Patients weighing 30 stone or more, it is said, are being directed to ground floor wards instead.
But Ealing Hospital NHS Trust has refuted claims saying 'no patient has ever been barred from treatment on a ward because they were too heavy.'
"The admissions ward is actually on the lower ground floor of the hospital inside a linked prefabricated building," said an Ealing Hospital spokesperson. "Heavier patients are assessed in the Accident and Emergency department and then go straight to wards."
Trust chief Executive Julie Lowe explained: "The Trust has invested in bed scales, hoists and wheelchair platform scales to aid staff in lifting and weighing patients.
"Patients are weighed on admission to the ward as part of their clinical assessment, to record their weight and height. As a number of the heavier patients come through A&E, heavy duty scales are available there. At present, A&E has a heavy duty hoist with scales which will cope with up to 300kg (47 stone)."
Every piece of equipment such as trolleys, beds, chairs and hoists has a Safe Working Load (SWL) standard. It is important that the SWL is not exceeded, as it will affect the stability and mechanism of the equipment. Also, the width of the patient needs to be considered. An electric bed frame is used rather than a trolley, if the patient's hips are wider than a trolley (in A&E and for transportation purposes).
The revelation is one of many unearthed by an investigation which shows hospitals have doubled their spending to treat overweight patients and cope with Britain's mounting obesity crisis.
The figures from the Liberal Democrats come from an investigation of 150 hospital trusts which shows the amount spent on larger patients has risen from £5.8 million to £13 million in just three years.
The average hospital spent £60,000 on 'supersized' equipment including beds, trolleys and mortuary fridges to treat obese patients compared with £30,000 just three years ago.
The growing concern over the health of the nation comes ahead of a study, out tomorrow, which will predict that half the population could be obese within the next 25 years. The Foresight report will also warn that the epidemic will cost the country £45billion by 2050 in lost productivity and patient treatment.

The figures show that the number of obese adults admitted to hospital has risen 45 per cent since 2002 and obese children by 30 per cent.
Lib Dem health spokesman Norman Lamb said: "This is a stark and depressing demonstration of the Government's failure to tackle the obesity crisis. We already know billions of pounds are spent treating obesity and the consequences of health problems linked to it. This shows that there are also hidden costs and this money would be much better spent tackling the problem."
October 17, 2007