Taking some time out 'for the baby'
Related Links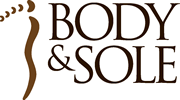 Body and Sole
147a Pitshanger lane
Ealing
W5 1RH
Some other treatments on offer at Body and Sole
- Kinesiology – Uses simple, safe, precise muscle testing procedures to find problem areas to get to the root of the problem
- Bowen Technique – A soft tissue remedial therapy which involves the therapist using fingers or thumbs to move over muscle, ligament tendon and fascia in various parts of the body
- Reflexology – An ancient technique that stimulates pressure points on the feet to rebalance the body's energy system
- Acupuncture – To treat pain, relieve common ailments and promote general health through the insertion of fine needles to stimulate the body's own healing response
- Ginger Two Sugar Body Scrub – A warming and indulgent body scrub that leaves your skin smooth and your senses awakened
- Guerande Salt Body Balm – A complete body treatment using mineral rich Guerande Sea Salt and a moisturising and toning blend of love, basil and peppermint oils. Combines body brushing, exfoliation and a relaxing massage.
Participate
Sign up for our free newsletter

Comment on this story on the Ealing forum
The invitation from Body and Sole, the health spa on Pitshanger Lane, read 'a tempting offer'. Indeed I was, and this time I could indulge myself with no guilt as, being seven months pregnant, I was 'doing it for the baby'!
The boutique day spa had lots of treatments on offer but many are contraindicated when you're 'with child'. So pregnancy massage it had to be, and believe me I wasn't complaining.
The treatment is all about relaxation. I had never had one before but had heard tales of beds with circles carved out for the bump. I could see holes in that approach - for a start bumps come in all shapes and sizes. And they're heavy, surely not designed to be hung through holes! To me it sounded a bit too much like hard work, and not very relaxing.
No bespoke pregnancy apparatus in sight here. Just a lovely warm room, soothing music and the instruction to disrobe. Don't worry - there are plenty of towels to save embarrassment at the increasingly wobbly bits and to prevent chilly bits.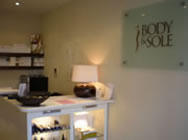 I was asked to assume the recovery position and I think it neatly described what was in store.
The massage is all about making you feel better and as soon as it started I did. Bit by bit, sections of the swaddling towel are removed as the massage progresses, revealing aching limbs and tired muscles. And slowly but surely they were kneeded back to life - from the shoulders down to the toes, and not forgetting the arms, hands and fingers - a complete service to this heavy load vehicle which was feeling very ready for the knackers yard.

Not only can massage be physically beneficial, but the human touch can be comforting and provide emotional support during pregnancy. Massage therapy has been found to reduce anxiety and depression. So you've heard it here, get yourself a massage - doctor's orders.

After my hour's restoration, masseuse Ren advised me to go straight home and take it easy for the rest of the day, preferably taking a nap...
Fat chance! Instead it was back to reality with a bump (geddit!), but at least I'll know where to come to recover.
Charlie Canniff

February 6, 2008
Advertisement