Pupils elect their council representative
Related Links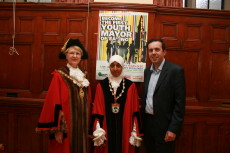 Mayor Councillor Barbara Yerolemou with Youth Mayor Amnah Noor and Councillor Ian Gibb
Participate
Sign up for our free newsletter
Comment on this story on the
Ealing's school pupils have elected 17-year-old Amnah Noor as the borough's first ever youth mayor.
Amnah, who is a pupil at the Ellen Wilkinson School for Girls, was presented with her robes of office by Mayor of Ealing Councillor Barbara Yerolemou in a ceremony at Ealing Town Hall on Wednesday.
Children went to the polling booths to vote for their favourite out of 47 candidates who stood for election. The seven with the most votes went forward to the final, and each one gave a presentation about what they wanted to achieve.
Young people who voted on the finalists were impressed with Amnah's commitment to represent them across the whole of the borough and to keep them informed.
During her year of office Amnah will represent young people at official events and champion various issues and causes.
Cabinet Member for Children's Services, Councillor Ian Gibb, said: "Having a youth mayor will give young people more of a voice locally and give them a figure head to champion their needs. Amnah is a very worthy winner and I'm sure she'll do a great job as youth mayor.''

July 24, 2009