Local police collect for elderly victim of burglary
A 90-year-old World War II veteran from Northolt, who was the victim of a callous distraction burglar who tricked his way into his home recently and stole £300 that he had saved for Christmas, had a surprise visit of a different kind yesterday.
Police officers from Ealing dropped in on him and presented him with a card and £300 in cash.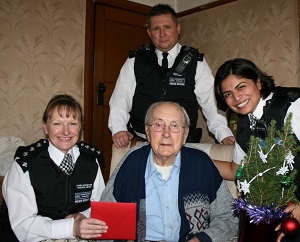 The money had been collected by officers and staff from Ealing Police after hearing of the elderly man's misfortune, from PC Jasmeen Rahim of North Greenford Neighbourhood's Policing Team.
PC Jasmeen Rahim of North Greenford Neighbourhood Policing Team said: "I knew I had to do something to help after seeing how upset the victim, who is housebound, was at having his savings stolen and the thought of him not being able to give his family their Christmas presents.
As soon as colleagues heard the story, money started pouring in and within days we had collected an incredible £200. Another £100 was donated by Ealing Police Social Club."
On being handed the money, the victim's first instinct was to give it back to the officers saying that he couldn't possibly accept it and blamed himself for letting the bogus caller in.
PC Rahim, however assured him that it was through no fault of his own that he let the bogus caller in as they appear so credible and convincing. She also assured him that officers and staff, who have elderly parents or relatives of their own are all well aware of this cold-hearted crime and wanted nothing more than him to accept their donations.
The victim said that he was taken aback and completely overwhelmed by the kindness and generosity of the officers and staff.
PC Jasmeen Rahim also added: "Distraction burglars are the most callous people as they often target older and more vulnerable people and will try to trick or con their way in. They are known as bogus callers and will pretend to be on official business from respectable concerns such as the Utility Companies - Gas, Electricity and Water - or the Council.They may claim to be tradesmen or workmen calling to carry out urgent repairs." Treat every stranger with caution. If you are worried, dial 999 immediately and ask for the police."
17th December 2014