Help many causes all profits to charity

The Christ the Saviour Ealing Card Aid shop on Ealing Broadway is now open with all profits going to charity!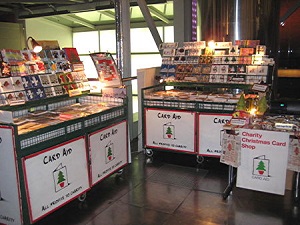 Rummage through religious paintings, local scenes, whimsical creations, and comical imaginings of Santa Claus. Meet our lovely paid graduate intern, Zaid, who can tell you about the charities represented.
We represent a large range of charities, ranging from the Charities Advisory Trust's project Knit for Peace, to cards from The Children's Trust. One loyal customer tells us that every year he is caught between choosing his favorite design and his favorite charity.
Also available are Good Gifts calendars. Open the flaps every day in December to discover what you have given – one day, milk for an African orphan, far across the seas, the next socks for a homeless person closer to home. It's a great way to teach children about the true meaning of Christmas.
Drizzle goodwill on your turkey, with Peace Oil produced by Arabs and Jews working together in Israel, creating lasting friendships, and an award-winning product.
Put Christmas back at the top of your list! We look forward to seeing you at the shop Mon-Fri 10.30-4pm and Sat 10am-5pm.

Quote Zaid the unique code 456 to receive a free gift!
14th November 2013