Will to Win
Related Links
Whatever your need, we aim to meet it.
Why not try us out?
We look forward to seeing you.
For more information visit
www.willtowin.co.uk
or call 020 8840 0888.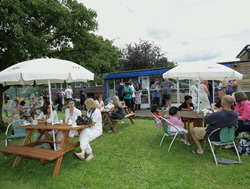 You are invited to Ealing's friendliest Public 'Pay & Play'Tennis and Football Centre.
Will to Win can be found in the grounds of Lammas Park on Culmington Road and has been running for 10 years. During this time we have resurfaced the tennis courts, built two 5-a- side artificial grass football pitches, added floodlights and renovated the club house with a café and changing facilities. We offer a year round programme for adults and juniors of all abilities, including our popular tennis and football camps for kids. We are a 'no frills' venue which means you don't have to wear all whites, undergo a play-in test or be a member. You can simply come down and hire a court or pitch and pay and play. We welcome people of all ages and abilities and are Ealing's friendliest Pay & Play Centre. What's more, we won 'Middlesex Club of the Year' in 2011 & 2012!

Forthcoming events
FOR ADULTS:
Intensive Adult Tennis Weekend
Why not sign up for our Intensive Adult Tennis Weekend to brush up on your skills on 23 & 24 March 9am-12noon? Our coach will refresh you on all the main shots and give you tips on how to improve your game. Call the Tennis Centre to book your place.
Adult Beginner and Intermediate Tennis courses
In addition to the above, we have Beginners and Improvers/Intermediate tennis courses running in 6 week blocks in the evenings from April as well as leagues, teams, drop-in sessions and much more.
Easter Monday Tennis Tournament
Join in our fun social Easter Monday Adult Doubles Tournament. No partner required - open to all abilities. Just sign up in advance.
Netball
We have teamed up with England Netball to run Back To Netball sessions on Tuesdays at 8pm. Come along and try it out.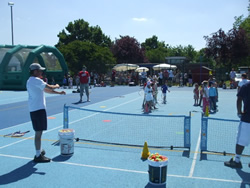 Open Day
Please come along to our Open Day on Sunday 14 th April 1-3pm. All abilities welcome (Juniors & Adults). Rackets & Balls provided.
Free Cardio tennis session (book your 30 minute slot in advance)
Meet our highly qualified coaches
Free tips and advice
Demo rackets available
Fastest serve competition
Fun games and prizes for juniors
Cardio Tennis
New for this Spring at the Will to Win Tennis Centre is a focus on Cardio Tennis. During the Open Day, Will to Win Director Steve Riley will be running Free Taster Cardio Tennis sessions.
''This is a great way to get fit, have a real workout and play tennis all at the same time,'' says Steve. Cardio tennis keeps you moving for the whole session and is accompanied by music. It's fun, dynamic and very popular.
To find out more or sign up for our free cardio tennis sessions, please call 020 8840 0888 or visit
www.willtowin.co.uk. Sessions run on Saturdays and early evenings during the week.
AND FOR JUNIORS: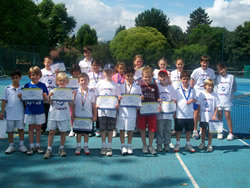 Easter Holiday Tennis Camps
Our very popular kids' Easter Tennis Camps run from Monday 25 March - Friday 19 April from 10am-3pm each day. Open to ages 4-15 yrs and all abilities. (Sessions for 4-7 year olds run from 12-1pm). The camps get booked up quickly so please call early to book a place.
Junior After-School Tennis Courses
The camps are followed by our Junior After-School Courses which run from 16 April – 18 July on Tuesdays, Wednesdays and Thursdays from 4-5pm, 5-6pm, 6-7pm. See our website for more details. Places are limited so sign up now!
Junior Drop-in Tennis Classes
If you can't make after school, then we also run drop-in sessions on Saturday mornings 9-10am, 10-11am, 11am-12 noon, 12-1pm. No need to book, just come along and join in.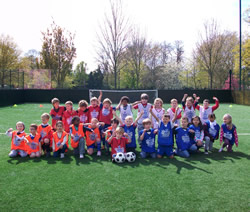 Junior Drop-in Football Classes
For those children who prefer football to tennis, we run drop-in sessions on Saturday mornings. No need to book – just come along on the day.
Junior Football Tournaments & Camps
Our next Football tournaments are on Saturday 23 March and Saturday 18 May. Sign up by calling the Centre.
We also run Football Holiday Camps in conjunction with Queen's Park Rangers Football Club. See www.willtowin.co.uk for more information.
After-School Football Leagues
New for 2013 – we are starting up Junior After-School Football Leagues from Friday 3 May. Contact the Centre for more information.
Whatever your need, we aim to meet it. Why not try us out? We look forward to seeing you.
For more information visit www.willtowin.co.uk or call 020 8840 0888.
Advertisement
11th March 2013