Do you know this woman?
Police Officers from the Ealing Community Safety Unit are appealing for help in identifying a woman following an assault on a bus in West Ealing.

On Monday 4 March 2013 at about 09:30am the victim - a woman - was standing on the 207 bus in West Ealing and without provocation the suspect began shouting at her and grabbing her neck.
As the woman tried to leave the bus the suspect pushed the victim with both hands causing her to lose balance and fall to the ground outside the bus.

The suspect is described as black, 30-40 years old, 5ft 8in tall and wearing a beige top. She had a very distinctive hair style which can be seen in the images.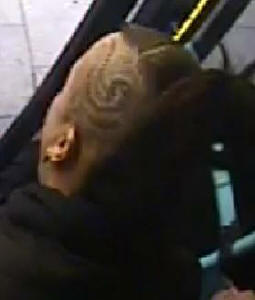 Anyone with information is urged to contact DC Bryan Clarke on 020 8246 1063 or Crime Stoppers anonymously on 0800 555 111.

10th June 2013