To make way for a marina and residential riverside development
Watermans Art Centre may move into the former Brentford Police Station, to make way for a new marina and riverside housing development.
It follows the signing of a Memorandum of Understanding with developer London Green at MIPIM – the international property conference in Cannes, France, on 10 March.
The proposals include:
•Redevelopment of the Max Factor building - the red-brick office block next to Watermans
•Relocation of Watermans Arts Centre to site of the former police station in Brentford.
• A new Marina, homes and commercial units on the old Watermans site
•Re-establishment of the Thames Path.
This latest news has been welcomed by Watermans who say they are looking to relocate to support their future development plans.
They say they are exploring two options with different developers: Ballymore, as part of the development of the South side of the High Street, and London Green who are looking to develop the Old Police Station site.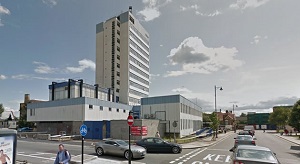 Brentford Police Station ( google maps)
Jan Lennox, Director of Watermans, said:
'Relocation to a new building is an important part of Watermans' future plans. Watermans is the major arts centre in West London, with a quarter of a million visitors a year. We provide a lively cultural programme for local residents and visitors to Brentford, which would be better located in the heart of the town centre and in a building with greater capacity. This will allow for future growth.
''It is encouraging that a second developer, London Green, is now involved in these discussions. It demonstrates the important part that Watermans has to play in the future of Brentford. We look forward to progressing these exciting discussions in partnership with the London Borough of Hounslow.'
The former police station at Half Acre, which opened in 1967, had been closed following restructuring of local policing in 2013 and was sold last September to the highest of nine offers. It was thought then it would be turned into residential housing. A sketch on the London Green web site shows an artist's impression of what the new Watermans would look-like. The theatre is shown beneath a new tower block on Half Acre.
Sketch from the London Green web site of how it could look
London Green web site states that after the spring acquisition, planning permission for the scheme will be submitted in the autumn and construction work will begin next year.
23rd/March 2015