Parts of the park to be closed off the next fortnight
Walpole Park is to play host to a major SKY employee conference with a glass pavilion and other temporary structures being erected in the park to house various events.
It is due to takes place 'in late June' but notices have gone up warning park users that there will be restrictions at various times from 19 - 30 June.
The eastern side (Pitzhanger Manor) of the Serpentine lake will house the glass pavilion whilst there will be an enclosure on the west.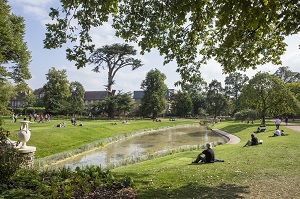 The joint Ealing Council/ Pitzhanger Trust 'community' notice reads, ''Many of you are already aware that Sky, as well as playing a significant role in the local economy, has also been a particularly generous partner and donor to the Pitzhanger Manor restoration project. Sky's choice of Pitzhanger Manor and Walpole Park for this conference is a vote of confidence in Ealing, and will provide much needed additional funds for both the Park and Pitzhanger Manor and Gallery.''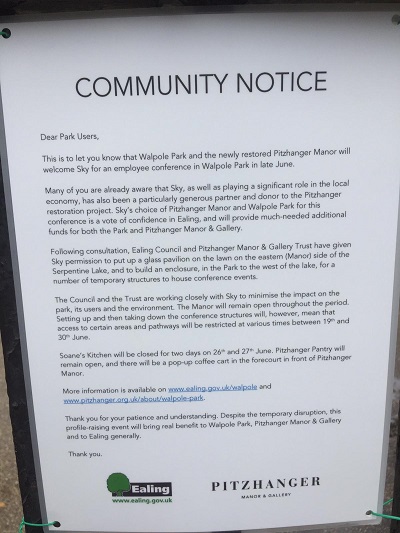 Soane's Kitchen will be closed on 26 and 27 June.
The main entrance and exit for Pitzhanger Manor will temporarily be the War Memorial Gates on Ealing Green.
The Council say they are working with Sky to minimise any impact on the park, users and environment.
Read any further updates here
19 June 2019