The jury is still out...
Related Links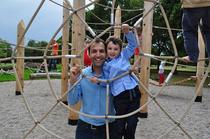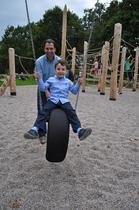 Councillor Bassam Mahfouz and son Alexander in the new children's playground at Walpole Park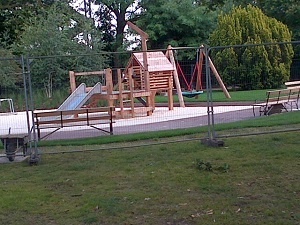 Participate
Sign up for our free newsletter
Comment on this story on the
The new playground in Walpole Park, has finally opened (Friday, 15 August) and whilst it's been given a big thumbs-up by many - others aren't quite so happy.
The brand new play structure replaces the old Walpole play space and is separated in to two areas: one for toddlers and pre-schoolers and an area for more challenging play for older children.
Councillor Bassam Mahfouz, cabinet member for transport and environment; who brought his four-year-old son, Alexander to the new playground, said:
"This is a really fantastic play space that I know parents and children alike have been itching to get into with so many interesting and exciting elements. The younger children love the fun they can have in the sand, whilst older kids enjoy the challenge of a brilliant activity course. It looks amazing and I know I've certainly got one very happy customer who can't wait to go back and take his friends."
However there have been various complaints about the makeover, with the new footpaths causing most objections. Dubbed #gravelgate on the local facebook site - the new paving has caused upset. Residents complain it's impossible to skate or scoot on and difficult for wheelchair users.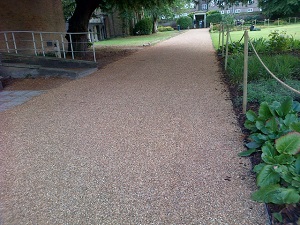 Ealing council previouly said the gravel was chosen to give the park a 'heritage' feel and more unified look and offered reassurances that it will embed itself into the surface tar and eventually be a smooth surface.
The new children's playground is part of a wider scheme of improvements to Walpole Park that has been going on since September 2013 and is part-funded by a Heritage Lottery Fund (HLF) 'Parks for People' grant of £2.4million.
Other improvements include: restoring the heritage bridge, stonework and water features; restoring the pond; re-landscaping the bridge and surrounding area; and re-surfacing and widening footpaths. A new education centre; The Rickyard, will also house a refreshment kiosk and visitor toilets. It is due to open in the autumn.
A further £2.7million was also contributed by Ealing Council and other small external grants towards the entire Walpole Park restoration project; including delivering a programme of events and activities.
Equipment from the previous play space at Walpole Park that has not been reinstated into the new playground will be relocated in other parks in Ealing. Other materials will be recycled with the Selbourne Society using some of the wooden fence rails to improve disabled access at its Perivale Wood site.

Do you like the new look Walpole Park? Discuss on the forum.
20th August 2014