3 local winners at the Teaching Awards
Related Links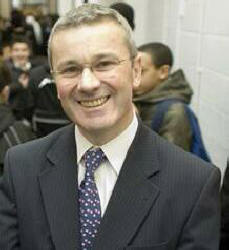 Arwell Jones Brentside School
Are you involved with a local school? Do you have news/events/ information you would like to share?
Contact editor@ealingtoday.co.uk

Participate
Sign up for our free newsletter
Comment on this story on the
Three local educationalists have been recognised at national level for their work.
Arwel Jones from Brentside High School has been awarded the National College Award for Headteacher of the Year in a Secondary School in the London and the South-east category.
Shahid Khan from Villiers High School has been awarded Governor of the Year and Jon Elkon of Featherstone High School won The Department for Education (DfE) award for Enterprise, .
Mr Elkon's students are regular winners of local and regional Enterprise competitions and one of his students was recently declared Young Entrepreneur of the Year and won a trip to New York as part of his prize.
Cabinet member for Children's Services, Councillor Patricia Walker, said:
"I'm delighted that so many local people who work so tirelessly in education in our borough have been recognised for their outstanding work. No other London borough was so well represented at the awards and it's testament to the number of dedicated teaching staff and governors we have in Ealing. The council is proud of the standard of work and high quality teaching in its schools."
Head Teacher at Brentside High School, Arwel Jones, said:
"Although this is a personal award, no head teacher could achieve such an award without the full support of staff, students, parents and governors. This is a tribute to the hard work of all at Brentside High School."
The three finalists will be invited to the UK awards in London in October.
Congratulations to them all!
29 June 2010